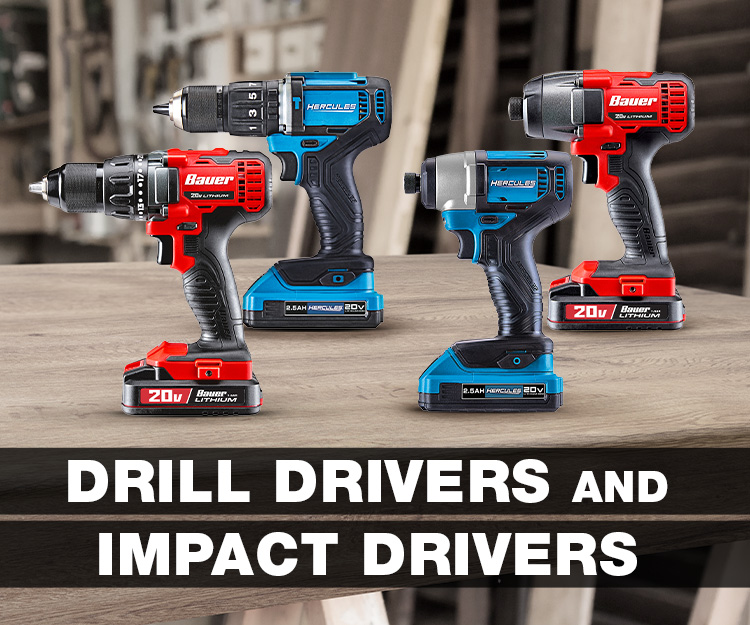 Best Uses For Drill Drivers
Both Drill Drivers and Hammer Drills offer solutions for a wide range of applications. Most drills are equipped with a 2-speed gear box and a clutch that disengages the tool when a specific torque is reached. Drill drivers excel at drilling holes and for applications that require more precise torque or head seating (depth that the fastener is driven into the material). In certain applications, they can be used for precise surface preparation. Cordless drills are an excellent choice for quick projects around the home, and for larger projects in the shop or on the jobsite.
Best Uses For Impact Drivers
Unlike drills that are ideal for precision drilling applications, impact drivers excel in applications that require higher torque. This includes driving lag bolts or long screws, and driving high quantities of fasteners. They can excel at driving small screws too, since the impact action minimizes bit slip out of the head. In some cases you may use an impact driver for drilling and other hole making applications, but you must use ¼" hex shank impact rated accessories built to withstand the torque. One of the primary benefits of impact drivers when compared to drill drivers is that they exert less force on the user, and are often lighter weight, making them easier to work with for longer periods of time.
Drill vs Impact Driver Comparison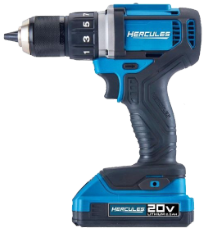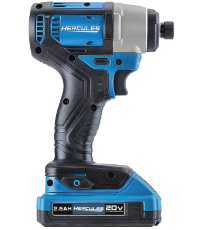 While the drill driver is an excellent choice for many drill and driving applications, the impact driver excels in speed and ease of use. The increased torque and rotational impacts makes it easier to drive screws and lessens fatigue on the user.
How Does A Hammer Drill
Compare To An Impact Driver?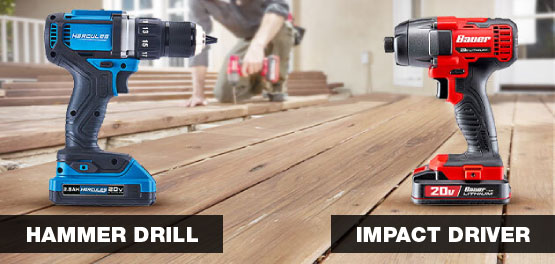 A hammer drill features a 'hammer mode' which excels well in masonry drilling and breaking up concrete or rock. This is due to the impact that is applied in a linear motion with the drill bit. Think of how a hammer strikes a nail. That functionality allows the tool to power through brick, concrete, stone, marble and other tough materials. The hammer function can be turned off leaving the user with a traditional drill driver. Unlike the hammer drill, an impact driver has rotational impact offering higher torque. A customer can expect to pay more for the feature rich abilities of a hammer drill versus a traditional drill driver.
Should I Buy A Brushed Or Brushless Tool?
Should I Buy A Brushed
Or Brushless Tool?
In addition to application and tool type, another consideration is whether to buy a brushed or brushless tool. This feature refers to the mechanical makeup of the motor and the lifetime expectancy of the tool. Brushed tools are often less expensive, but can have performance limitations due to the brushes in their motors which have to be replaced over time. Brushless tools do not require any replacements in their motor, and are often more efficient with better performance. If purchasing for occasional use around the house, consider a brushed tool. If purchasing for everyday, professional, or jobsite use – consider a brushless tool.

Boosts efficiency, generates more power in a compact power plant
Advanced hardware and software enables constant power under load
Last longer and work harder with industry leading Lithium-Ion cells
We think you'll enjoy these customer-made YouTube videos about our products. They're independent, uncut and unsponsored. They may also contain some four-letter words that aren't "tool" and other content that's not appropriate for children. We hope these videos help inform your tool-buying decisions. And a note from the lawyers: Products should always be used in accordance with the owner's manual.
Now that you understand the differences between each tool, click the categories below to shop Drill Drivers,
Hammer Drills and Impact Drivers along with the accessories.
Sours: https://www.harborfreight.com/power-drills-vs-impact-drivers
20v Cordless 1/2 in. Compact Drill/Driver - Tool Only
Product Overview
The jobsite tough 20v HERCULES® cordless compact drill driver delivers 2x more power* in tool that is 25% more compact.* The 2-speed 4 pole motor produces 0-600/0-2000 RPM for effortless drilling and fastening. A built-in LED light with delay after trigger release gives you a clear view in dark spaces. The heavy duty Jacobs® ratcheting chuck provides the ultimate in bit retention.** Buy with confidence with an included no-questions-asked risk-free trial, with additional coverage up to 2 years.
4-pole motor delivers maximum performance and durability in a compact size
2-speed transmission covers all drilling and fastening applications
All metal gear construction built to withstand jobsite abuse
Bright LED light illuminates work area
Jacobs® 1/2 in. ratcheting chuck provides ultimate bit retention**
Owner's Manual & Safety Instructions (PDF)
Important Information
Tool only - Requires HERCULES® 20 volt battery and charger, both sold separately. *Based on stated specifications of our standard product. **Jacobs® is a registered trademark of APEX BRANDS Inc.
Sours: https://www.harborfreight.com/20v-cordless-12-in-compact-drilldriver-tool-only-56534.html
20v Cordless 1/2 in. Drill/Driver - Tool Only
Product Overview
This high performance cordless drill/driver powers fasteners into a wide variety of materials. The all-metal gear construction ensures heavy duty performance with daily use. The LED spotlight gives you a clear view in dark spaces.
1/2 in. all metal keyless chuck for quick and easy bit changes
All metal gear construction improves life and durability
Two-speed selector matches speed and power to application
High performance motor covers all drilling, and fastening jobs
Compact lightweight design minimizes user fatigue
Textured overmold for secure grip and comfort
Bright LED light illuminates work area for increased visibility
Owner's Manual & Safety Instructions (PDF)
Important Information
Tool only - BAUER™ 20v Lithium-Ion battery and charger sold separately.
Sours: https://www.harborfreight.com/20v-cordless-12-in-drilldriver-tool-only-56725.html
Harbor Freight Drill Master Trim Router Review 62659
.
Freight drill harbor
.
HERCULES Hammer Drill From HARBOR FREIGHT Is It WORTH THE MONEY?
.
You will also be interested:
.
101
102
103
104
105