Cable railings
Safety rails
Cable railings, or wire rope railings, are safety rails that use horizontal or vertical cables in place of spindles, glass and mesh for infill.
Cable railing on residential deck overlooking a Lake
Uses[edit]
Cable railings are often desired in place of traditional pickets to achieve nearly unobstructed views as the cable is much thinner than traditional pickets. It is also a more modern aesthetic and is often chosen for that reason.
You can install cable assemblies into an existing railing system (called cable infill[1] ) and eliminate many of the maintenance headaches.
Posts construction[edit]
Due to the excessive load requirements[2] of this type of railing system, post construction is critical to the success of cable railings.
Cable railing requires very rigid frames compared to many other types of railings due to the forces applied to the end posts by tensioning the cables. Cables must be tensioned to provide minimum cable deflection using 4-inch sphere, to satisfy building code requirements.[2] Manufacturers use different methods to achieve the same result, one manufacturer uses a thicker wall and a webbed post in their aluminum systems, while using only thicker side walls in their stainless systems. Common frame types are constructed of steel, stainless steel, extruded aluminum or wood.
Posts height[edit]
The total minimum height required varies per building codes depending on the area and target use of either residential or commercial. Local city codes supersede state, national and international code. In most states, the residential code is 36 inches high. There are some exceptions, though, like in California [3] the required height for residential railing is 42 inches. On the other hand, the commercial International Building Code requires the railing to be at a minimum of 42-inch height. Posts can be floor-mounted or fascia/side-mounted, but the height of the railing is measured from the floor to the top of the railing.
Fascia mounted cable-railings at 42-inch height
Spacing between the cables[edit]
Guidelines for spacing between cable components are straightforward and simple. According to international building codes ICC,[4] openings between cables should not exceed 4". Moreover, a 4" sphere should not be able to pass through the openings. Spacing between posts should be kept consistent (when possible) along the assembly. For 36" posts or 42" posts , 4 feet of spacing (center to center) is recommended to minimize deflection between the cables when pushing a 4" ball in between two cables. To accommodate such standards, railing projects may incorporate 3 ½" or less of spacing between cables taking into account the cable deflection caused by the posts spacing. This configuration would streamline compliance with the 4" sphere requirement.
Cables and tensioning[edit]
Cable is very strong in tensile strength, with a breaking strength in excess of 1000 lbs for these types of uses, and is a suitable in-fill material for a railing ("guard" in ICC codes). Typical diameters are 1/8", 3/16" for residential and 3/16" and 1/4" for commercial applications.[5] There are many different types cable and strand (also referred to as wire rope). Cable and strand is available in galvanized carbon steel, type 304 stainless steel, or the highly corrosion resistant, type 316 stainless steel (best for coastal areas). The most common cable construction is 1x19 type construction strand, which is 19 cables twisted in a single bundle, whereas for example, 7x7 would be 7 cable bundles of 7 cables twisted. This type of stainless strand is designed to have limited stretch, as compared to galvanized,[6] making it a good long term cable railing solution. It has long been used for yacht stays and guy wires, proving its outdoor durability and strength.
Cable flexibility[edit]
Cable flexibility is an important consideration in designing a cable railing. The old UBC (Uniform Building Code) and newer ICC (IBC and IRC)[7] codes state that a 4" sphere shall not pass through any portion of a barrier on a guardrail. In a horizontal or vertical cable rail, the cables, once tensioned must be rigid enough to prevent a 4-inch sphere passing through it. Factors influencing this rigidity are: the tension of the cable, intermediate posts (or cable spacers) spacing, the diameter of the cable, top rail cap material and the cable to cable spacing.[8] The application of the 4" sphere test is usually at the discretion of a code enforcement official who will interpret the force behind the 4" sphere so it is advised that cable spacing not be more than 3" over a 48" space between post.
Cable tension: An incredible amount of tension is generated on the end posts when ten or more cables, each tensioned at 200-400 lbs. over a height of 36" to 42" exists. Underestimating the tension of cables applied to end poles can cause a safety hazard. Cable can have too much deflection allowing body parts to slip through, or cables can merely "pull out" of the end fittings, causing the cable rail to fail. Poorly designed end posts will result in a railing where the cables cannot be properly tensioned without an unacceptable amount of cable deflection. End posts to which the tensioning hardware attaches must be constructed so that they will not deflect perceptibly.
Post spacing: Intermediate posts are posts which provide mounting for the top rail and have a vertical row of holes to support the cable as it passes through them. Since the post to post spacing is a primary driver of cable rigidity, the post to post spacing is very important. It is generally recommended that post spacing be no more than 5 ft on center Some manufacturers require as little as no more than 3 ft on center. The reason for post spacing is more about the cable end fittings' machine thread loading capacity (how much tension can be put on the threads before they fail), than anything else. The more cable drop in the middle, the more weight on the tensioning device, ergo the more load on the threads. Proof strength must be greater than load.
Cable diameter and properties: The next variable is the diameter of the cable. Cables can be any wire rope, which meets load strength requirements by the ICC.[8] The most available types are 1x19 1/8", 1 x 19 5/32", 1x19 3/16", 7x7 3/16" and 1x19 1/4". 1 x 19 cable is the most rigid cable available and per the first paragraph above will have greater resistance to the 4" sphere test and likewise have a lesser chance of allowing objects 4" and over to slip through the cable. 316 Stainless Steel is preferred, due to its inherent nature against stretching, keeping long term maintenance down, as well as having anti-corrosive properties.[9]
Top rail: Top rail material must be strong as it is being compressed by the combined cable forces. Common top cap materials are the stronger species of wood or metal. Composite lumber can be used if a support rail is used along with it. The support rail is used between the posts to lend strength to the system, both between the posts, and to the Top Rail.
Cable to cable spacing: Spacing of the cables vertically is critical to minimize deflection of the cables. Most manufacturers recommended maximum vertical spacing of no more than 3-inch free opening between cables when they are installed to meet cable deflection requirements as stated above.
All of the above factors work together to minimize the deflection of the cable to prevent a 4" sphere from passing between the cables when they are properly tensioned in a well-designed frame. This is a requirement according to a number of building codes. Among the more stringent, including that of California,[10] this requirement may be used in conjunction with a weight being hung from the cable.
Cable end fittings[edit]
Cable end fittings[11] are the pieces that tie the system together. The cable attaches into one side of the fitting, while the other side attaches to the post (frame structure). Cable ends may tension, or just attach to the frame, depending on the individual needs of the project.[12] The requirements needed to decide whether to use tensioning or non-tensioning fittings are generally dependent upon the manufacturer's system requirements, your local building codes, and ICC requirements. To determine the type of cable end fittings needed, you'll need to know the distance you expect a single piece of cable to run without stopping, and the amount of tensioning ability of the fitting you expect to use. Individual manufacturers will help you to determine the rest. Most cable end fittings are made by type 316 stainless steel to avoid rust.[13]
See also[edit]
References[edit]
Fine Homebuilding magazine
Sours: https://en.wikipedia.org/wiki/Cable_railings

With a sleek and modern design, wire railing is the leading option for alternative railing on decks & stairs. We build components with precision and source materials from marine-grade stainless steel, so even the hardware is corrosion resistant. The durable wiring is a sturdy solution to secure your deck and stairs safely. Buy, get a quote, or check out some completed projects!
Cable railing for decks can be ordered with special tools & components to mount it on level surfaces, and stairs can be mounted at an angle. It's simple for the DIY homeowner to install horizontal cable railing systems into a deck or staircase. With an industry-leading powder coating process, cables are the perfect steel cable fence for your indoor or outdoor project.
Cable railing is a versatile system that comes with dozens of customizable options. Order the posts in either aluminum or stainless steel, and make them your own with one of our powder coats. If your project is located on the coast, order custom-made exterior metal railing to hold up against salty sprays. Cable railing posts can be mounted into many different surfaces, such as wood, composites, concrete, and more.
When to Use Aluminum or Stainless Steel for Cable Railing
If you're looking to install a new system, you are probably wondering what material you should use. StairSupplies offers two different metal options: aluminum and stainless steel for cable railing. Both materials are highly durable and look great after installation. Aluminum is less expensive and it is also lighter, making it a bit simpler to install. Stainless steel however is denser and has more tensile strength which combines to provide a strong and sleek system for your railing project.
Our stainless steel posts for cable is available in 304 stainless steel. 304 is ideal for most guardrail systems. It's durable with a beautiful brushed look.
All of the cable railing wiring and components are made from stainless steel.
DIY Installation Resources
Our cable railing systems are code-compliant and simple to install. Once you know the basics, tensioning lines of cable to posts is a process that any DIY homeowner can do. Get inspired by browsing through a few of these cable railing projects, then read our step-by-step guide on how to install cable railing.
About Our Cable Rail for Decks & Balconies
Cable railing is perfectly suited for decks and balconies, particularly if you have a great view to show off. The thin, minimalist design of the wire cable railing system keeps your focus on the landscape beyond. Metal wiring is a safe guardrail for elevated decks or balconies — when tensioned properly they will keep your guests completely safe. The deck railing keeps your views wide open, while sleek cable lines allow the breeze to flow through.
Flexible and simple to install, our cable railing systems are ideal for deck renovations or reconstructions. Stainless steel balcony wire is built to withstand outdoor weather conditions of all kinds. Pair the guardrail with wooden posts and metal accents for a sleek, modern look. Each component of the cable railing systems is built to last through the life of your finished project. We support many different flooring options for outdoor decks and balconies: wood, composite, concrete, and many more.
From start to finish, our guardrail is simple for the DIY-homeowner to assemble. Each metal post arrives on the jobsite pre-drilled for simple installation and pre-engineered to meet stair railing code. Stainless steel components are specially designed to fit the metal and wood posts on either leveled or angled runs.
Learn more about cable railing, or start planning your project with the Cable Railing Guide.


Sours: https://www.stairsupplies.com/product-category/cable-railing-systems/
When looking to beautify your interior or outside space, there are many options to choose from. But have you thought about cable railing? This guide will let you in on everything you need to know about cable railing.
Cable railing systems consist of a series of metal wires that run horizontally between rail posts. As such, the system allows for an open view while maintaining superior ventilation thus creating an industrial aesthetic that complements a contemporary style house.
Benefits of Cable Railing Systems
Preserving Your View. Cable rails are excellent for terraces since their design allows you an obstructed view.
High durability and low maintenance. Cable railing is a minimalistic solution that requires little maintenance since all you have to do is wipe. Additionally, quality railings are able to withstand harsh weather and wear in addition to being corrosion resistant. They can also stand up to hundreds of pounds of force without breaking.
Added Value. Cable railing will add significant value to your home when it comes to selling.
Added Safety. Railings enhance the safety of risk-prone areas such as high decks and stairs. However, you should ensure that they are of good quality.
Cable railing is obviously an excellent addition to your house. But where would you use it? Consider the following cable deck rail ideas.
Cable Deck Rail Ideas
Vertical Cable Railing
This type of railing is a modern deck railing design in the market today. Vertical railings are made from steel cables that are tightly pulled between the top and bottom rails. The rails themselves are typically made from powder-coated iron and are usually colored black so s to complement the modern look of the home.
The best thing about vertical railings is that they enhance the openness of your deck thus making it feel and look bigger. The downside to vertical railings, however, is that they are not compatible with houses that do not have a modern design plan.
Horizontal Cable Railing
Most business and homeowners have a preference for this cable railing configuration. Here, the rails run alongside the deck.
But why do customers have a preference for this type of railing configuration?
Horizontal vs. Vertical Cable Railing
Cost
Horizontal cable railing is inherently cheaper than vertical railing. This is because it requires fewer materials to build and install. Additionally, it also requires fewer connections, thus reducing the amount of hardware needed.
Ease of Installation
Since you need fewer materials for the installation, the process is, therefore, a lot less laborious as compared to vertical railing. This also contributes to the significantly reduced costs associated with horizontal railing.
Versatility
You have a wider array of materials that you could use in this configuration as compared to vertical railing. This allows you a higher degree of flexibility in design.
Enhanced Feeling of Security without Compromising View
Horizontal railings allow you the same feeling of openness and security that is characteristic of cable railings without compromising your view. There is still enough spacing between the wires to give you a nice view of surroundings outside of the railings. Here are some nice quality horizontal cable railing kits you can find for decks, stairs, fences & much more.
Metal Railing
These are versatile railings that come in various colors and designs. Metal railings are usually powder-coated to ensure that their luster lasts years without having to dedicate yourself to maintenance. Metal railings, however, are of two primary types: Aluminum and Steel. So, which one should you go for?
Aluminum vs. Steel Cable Railings
While both metals are excellent choices, it is important to know their relative strengths and weaknesses to help you make the right choice. Let us consider the following factors:
Durability
Stainless steel cable railings are known for their durability and toughness in the harshest weather conditions, which makes them quite popular in places with heavy snow or blistering heat. However, stainless steel is susceptible to rust which will not only affect the way it looks, but also its structural integrity. Aluminum, although not as tough compared to stainless steel, comes with superior powder coating which makes it very resistant to rust.
316 Stainless steel construction cable
Maintenance
Remember the powder coating we just mentioned above? That makes aluminum railings to be almost maintenance-free. You'll just need to hose them down from time to time. Other than that, they do not need extra care to maintain their beauty or strength. Steel, however, requires regular care to ensure it does not rust. You may also have to repaint it every other year.
Cost
Aluminum is easier on the pocket than steel.
Installation
Steel is more difficult to install as it is quite heavy. Aluminum cable rail is lightweight thus making it easier to transport, cut, and install.
As mentioned earlier, cable railing usually runs between posts. While the cable rails themselves are typically made out of metal, their posts can either be wooden or metallic. So, which post type is good for you?
Let us compare.
Cable Railing Posts: Wood vs. Metal
Wood posts have a warm and inviting appearance but might have a limited lifespan. Nonetheless, the type of wood used is what determines the longevity of your railings. As compared to metal posts, wood can be cheaper. But in the long run, metal posts will prove cost-effective as they will not require replacement. Wood will add to the uniqueness of your décor, but metal will offer you more versatility.
While steel posts do look elegant, using metal in both railings and posts can become monotonous and, therefore, using wood is an excellent way of breaking that monotony.
Also, wood usually stays cool during hot weather, unlike metal that gets hot when it comes into contact with direct sunlight.
So how much does cable rail cost?
Cable Deck Railing Cost & Installation
According to HomeAdvisor, the average cost of materials and installation for a basic cable railing system is about $3,000 for 50 linear feet of railing for a 350 square foot deck. However, it is difficult to generalize because these costs will vary by location.
Nonetheless, that is just an average since what you pay is determined by the type of material and the measurements. If you are working on a tight budget, consider using wood framing since it is much less expensive than its steel counterparts.
How to Choose the Right Cable Railing Hardware
Understandably, being new to cable rails means that you probably do not have any idea concerning the type and size of cable to use for your railing system. Even though there are numerous options, only a few can withstand the test of time.
For residential projects, the 1/8" cable is the most typically used because it meets building safety codes while being economical. Nonetheless, it is not very visible as it is very small. If you are looking for something more visible to enhance aesthetics, the 3/16" cable will suit you perfectly.
When it comes to the grade of the cable wire, there are also several options to choose from.
The lowest grade is galvanized and is usually not recommended as it corrodes quickly. For someone with a sizeable budget, the T304 stainless is a middle grade of stainless steel that is a good step up from galvanized. But if you are looking for the type of cable that not only looks good but also stays looking good over time with minimal maintenance, then you should consider going for the T316 like these, which is a top grade stainless steel cable.
You will also need to consider the strand of cable used in the cable railing. Here is what you need to know about these strands:
Types Of Cabling & Wire Rope Strands
There are various strands of cable wire rope, and each explains how the cable is braided together.
Universally, the most recommended type of cable strand to be used in cable railing is the 1x19. The implication here is that 19 strands of one group have been braided together to form the cable. And because all the strands are of the same type, this type of cable is usually very stiff, which is good as it ensures that the tension does not loosen over time.
Another strand of cable that is usually used in cable railing is the 7x7. This type of strand is medium stiff or medium flexible which makes it ideal for a railing that has to go around corners while maintaining a good degree of stiffness.
The one type of cable strand that you should avoid, even though it is very popular, is the 7x19. As you can guess, it implies that 19 strands of seven different groups were braided together to form the cable. This cable is very flexible, which is not the desired characteristic for a cable railing. It is better applied in winches or pulleys where flexibility is important.
Cable Rail Code Compliance
Imagine going through all the hassle of purchasing and installing a new cable railing system only for you to be told that you did not meet the cable rail code requirements and that you have to bring the entire thing down.
The reason for the need for compliance lies in the design of the cables themselves. Their narrow width means that they pose some safety issues. The following are some considerations to keep in mind:
Graspability
If you have placed the railing on a stairway, it needs to have a graspable handrail. The narrow nature of cable railings makes them not ideal for grasping especially if someone is falling. As such, you may need to offer something to grab onto, which can be done using a top rail.
The 4" Sphere Rule
This is a test used to determine the tension of your cable. Your railing's cables must be so tense that a 4-inch ball cannot pass through.
Cable Rail Code Compliance
The major determinants to whether you will pass the test will the materials you choose for your railing, in addition to how you create tension. To pass this test, do the following:
Choose a System with Top Rails
As mentioned earlier, safety can be an issue if you place a cable railing on your stairway. As such, choosing one with a safety handrail is a good way of not only passing the inspection but also ensuring the safety of people using the stairway as well.
Choose Marine Grade Stainless Steel
The T316 cable we talked about earlier is an example of marine grade stainless steel. This top quality cable will ensure that you pass the inspection for years to come since it does not corrode.
Cable rail systems are an excellent addition to your house. However, to ensure that you get the best system, you need to put some research into it, and that is what this Feeney cable rail review is all about.
Feeney is one of the best-known cable railing companies, and all their products are easy to install and made using the top grade T316 wire. This makes their cable railing systems excellent for coastal areas and harsh climates.
For over 70 years, Feeney has been providing the highest quality products in the cable rail industry. They have a variety of innovative products designed to enhance people's living, working, and playing spaces. Feeney's cable rails are beautiful in addition to being unobtrusive. Their wide selection of cable rails and accompanying hardware means that you will find the right design to fit your interior or exterior railing needs.
Their frame systems extensively use aluminum rails and posts made in their factory in the USA to ensure lasting beauty, structural integrity, minimal maintenance, all while keeping the products affordable.
All this is what has made Feeney the premier brand in cable railing systems. Feeney offers a 10-year limited warranty for its products if bought from an authorized dealer. Order a fine quality cable railing kit from us today!
Shop Cable Railing Kits

Sours: https://usrigging.com/read/cable-railing-kit-buyers-guide
Cable Rail Install - Stainless Muzata Brand from Amazon.com
Cable Rail Direct supplies high quality exterior and interior cable rail systems and fittings to outfit decks, stairways, and more. Our cable deck railing is constructed out of durable materials ensuring your deck is prepared to provide you with years of service. We also provide tools and accessories that will assist you with your cable railing project. If you are searching for strong cable railing systems that will not only give you the durability that you deserve but will retain the beautiful aesthetics you are searching for, give Cable Rail Direct a call today.
We have many products available to choose from. Cable Rail Direct has helped countless of interested clients with fulfilling their railing designs and projects. If you are looking to redo your deck, we also have great decking supplies and materials to help create the look you've always dreamed of. If you have any questions, please contact us to learn more!
Sours: https://www.cableraildirect.com/
Handrails cable
Everyday Free Shipping Over $1,499*
Some restrictions apply. Full details >
Cable Railing Shouldn't Be Bulky or Complicated

At Cable Bullet we believe that great cable railing should look clean, set the bar for quality, and be simple enough for even first-time users to install.
✓ Hidden tensioning mechanism - no more turnbuckles
✓ Less hardware - Interchangeable cable ends
✓ Versatile tensioners - use on level and sloped runs
✓ Designed & manufactured exclusively in the USA
✓ Build with only high-quality materials and components
✓ Project support to help make your project a success
1 universal tensioning mechanism, 4 ways to connect
Cable railing without all the complexity
Choose the cable rail tensioner designed for your posts: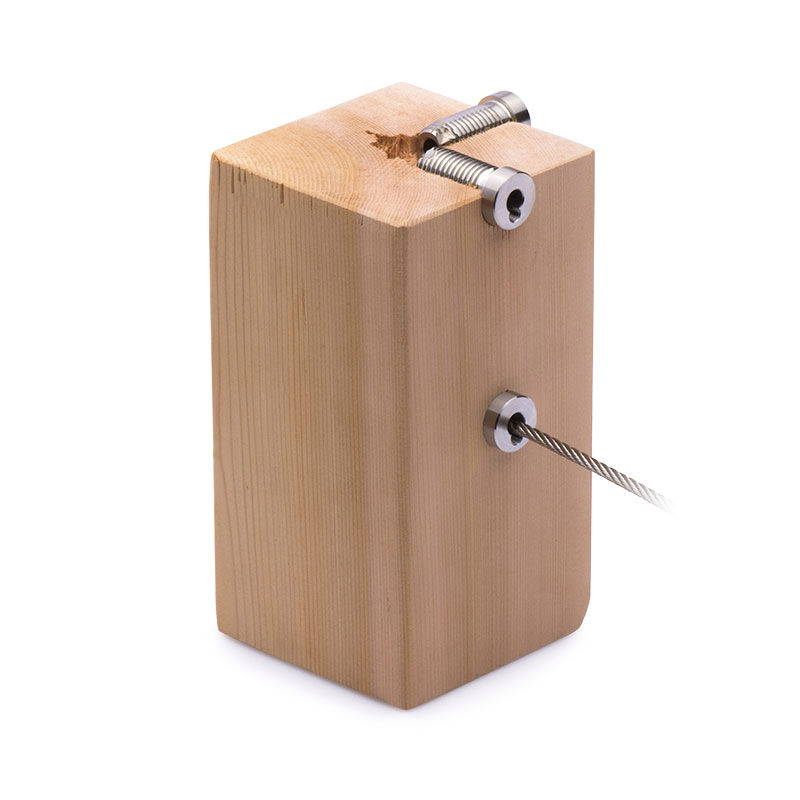 Tensioners for setting cables in
soft or hardwood posts
SHOP HERE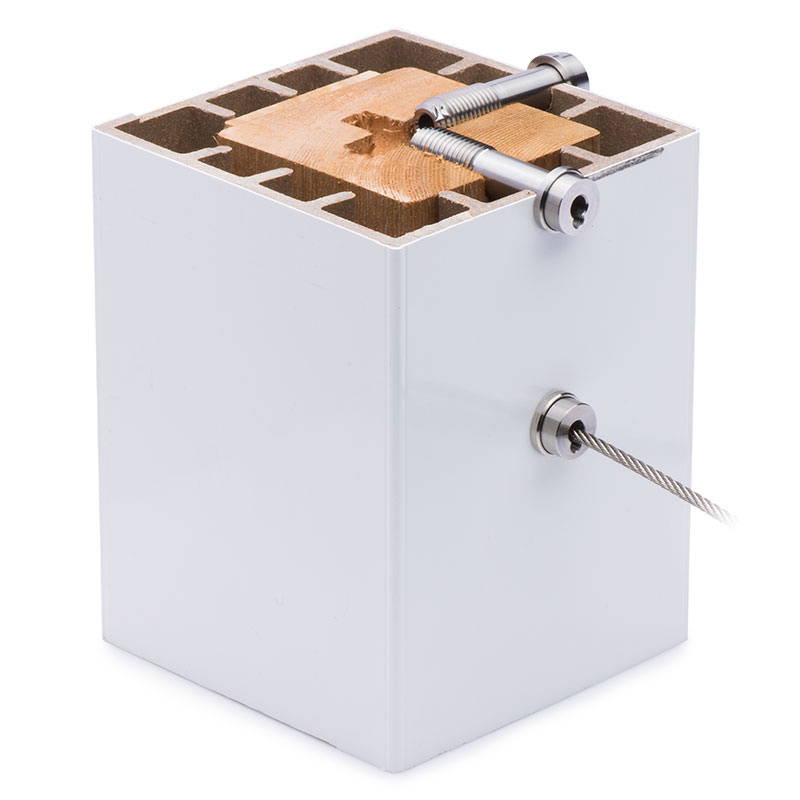 Tensioners for fitting cables through
vinyl or composite post sleeves
SHOP HERE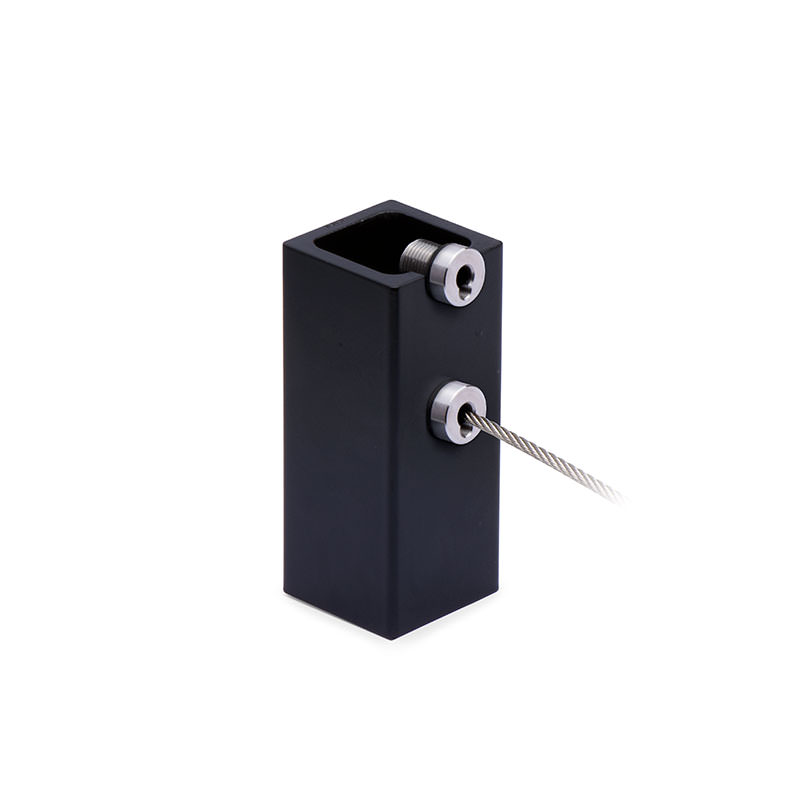 Tensioners, posts, & handrail for
aluminum or steel railing
SHOP HERE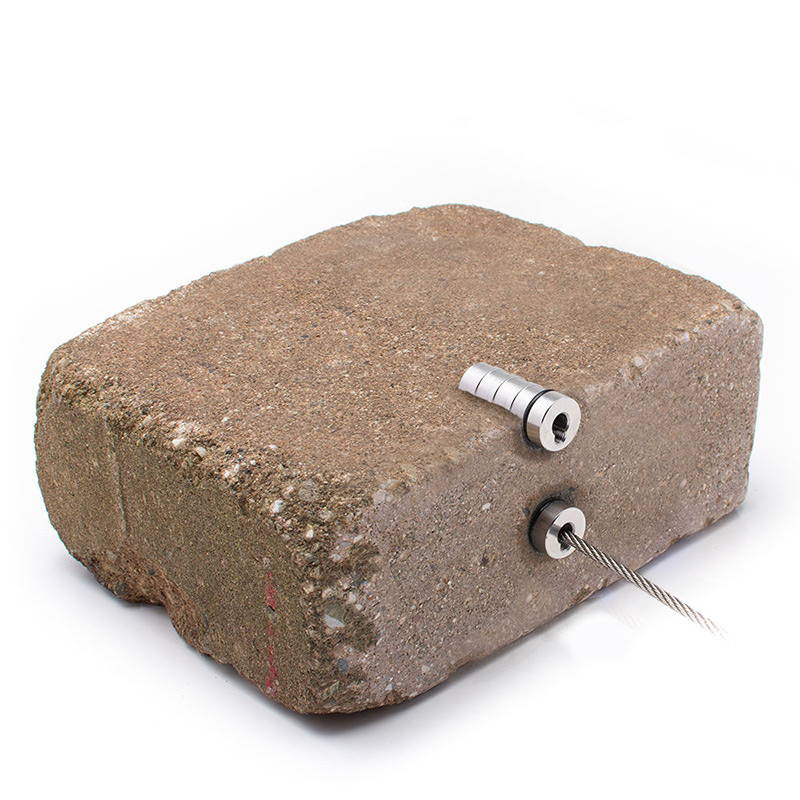 Tensioners for anchoring cables to
masonry posts or columns
SHOP HERE
Signature Series Railing
Heavy-duty aluminum railing with a minimal profile
Venture Series Railing
Solid stainless steel with all-in-one integrated tensioning system
Sours: https://www.cablebullet.com/
Wire Cable Railing DIY - For Sell @ www.ModernDeckRailings.com
Wire Balustrade Systems
Wire Rope Balustrade - Stainless Steel
Our wire balustrade is simply the best on the market, versatile and hard-wearing, delivering you outstanding quality. All wire balustrade and hardware is engineered and manufactured in the UK to highest specifications.
Applications include: interior and exterior decking cables, pergolas, trellising, boundary fencing wires, vineyard wires, wire suspension installations, simply decorative and so much more...
All 4mm wire rope and balustrade components are produced from high quality 316 grade stainless steel ideal for indoor and outdoor use.
DIY Wire Balustrade Kits
Our DIY wire balustrade kits are designed for quick and easy installation, simply choose from either Flat Surface or Tube Mount fixing. Kits supplied in a choice of 1m, 2m, 3m, 5m, 7.5m and 10m kits ready to cut to size.
Made to Measure Wire Balustrade
Our made to measure wire balustrade is manufactured to your exact dimensions, with pre-swaged end fittings to your balustrade wire, the ideal choice for any bespoke balustrade project, available for Flat Mount or Tube Mount.
Sours: https://www.s3i.co.uk/cablesystems.php
You will also like:
Cable Railing is a safety guardrail assembly you can install in various indoor and outdoor spaces. With this in mind, you must consider structural requirements, material options, project location, cost, building code compliances, and more to ensure a smooth installation. Understanding those elements makes you avoid problems and get the most out of your Cable Railing project.
You will find in this article helpful information about horizontal Cable Railing Systems Building Codes and how Inline Design railing products are designed to exceed those code requirements without sacrificing on design.
KEY POINTS
How strong should Cable Railing be?
How high should Cable Railing Posts be?
How far apart can Cable Railing Posts be?
How far apart should Cables be?
How many Cables?
What Cable is best for Cable Railing?
Are there different types of Top Rails?
How big to Drill Holes for Cable Railing?
How Long to run Cable Railing?
Do Cable Railing Rust?
Is Cable Railing Safe?
How to tension Cable Railing?
How to install Cable Railing?
What are the Pros and Cons of Cable Railing Systems?
What is the Cost of Cable Railing?
What is the Cost of Cable Railing vs. Glass Railing?
What is the Cost of Stainless Steel Cable Railing vs. Aluminum?
Stair Cable Railing: Top Things to Consider When Installing
Choosing Stair Cable Railing Systems
Planning your Stair Cable Railing Installation
Installing Safe and Stylish Stair Cable Railing
Why Knowing Your Project Requirements is Important?
Benefits of Professional Installation
References
Feel free to browse our design articles blog and our image gallery to get design ideas. With years of experience, the Inline Design team can work with you to create a top-of-the-line Cable Railing System for your property.
Request a Free Design Consultation
1. How strong should Cable Railing be?
The International Residential Code (2) requires top rails to be capable of sustaining a concentrated load of 200 lb horizontally or vertically at any point of the railing component. Local building codes may also call for smaller loads at 20 lb per square foot applied to the cable infill.
The presence of cables is what makes cable guardrail systems unique. The posts should be sturdy enough to sustain the pulling force associated with the steel cables. Additionally, top rails are frequently exposed to light impacts and pressure from objects or individuals leaning on the structure.
2. How high should Cable Railing Posts be?
Most state residential codes require railing to be 36" minimum height. California (7) is an exception to this standard, requiring railing to be at least 42" for all residential railing installations. The 42" railing height requirement is also applicable to commercial building codes. The post height is measured from the floor to the top of the handrail.
All railing installations must comply with applicable standards related to post height and cable spacing. When determining the height of the railing posts, you should factor in the handrail, type of location, as well as local, city, and international building codes (3).
3. How far apart can Cable Railing Posts be?
A 4 ft maximum distance center to center between the posts is recommended to meet the 36" or 42" posts requirements and address the cable deflection. No opening should be larger than 4 inches. Spacing between posts should be kept consistent (when possible) along the cable assembly to assist aesthetics. Building Code (3) requires that the spacing of posts not exceed an amount that could increase the cable deflection.
4. How far apart should Cables be?
Less than 3 1/4" spacing between cables taking into account the cable deflection related to post spacing. According to the International Code Council (4), a 4" sphere should not be able to pass through gaps.
5. How many Cables?
Cable Railing Systems with 36" high posts should use 10 horizontal cable runs. Cable Railing Systems with 42" high posts should use 12 horizontal cable runs. Building codes dictate that no opening shall be more than 4". The 10 and 12 cable count makes the distance between the cables 3 1/8".
6. What Cable is best for Cable Railing?
1x19 Strand Stainless Steel Wire has the smoothest construction while being strong with low flex and stretch properties. These specifications (8) make it the ideal solution for railing applications.
7. Are there different types of Top Rails?
The top rail completes the railing frame required for your Cable Railing project. Stainless steel is highly recommended for the top rails. The metal is resistant to corrosion, moisture, debris, and light impacts.
Marine-grade stainless steel is applicable to railing installed in rugged locations, such as outdoor beachfront properties, docks, outdoor decks, rooftops, etc. In addition, stainless steel top rails are suitable for indoor spaces, including commercial sites, offices, and public buildings.
Some project requirements may call for wooden top rails. To ensure long-term structural integrity, individuals should consider mounting a steel bar under the wood top rail for additional support. This implementation can help keep the wood component functional and intact, mainly as safety barriers on decks, stairs, and ramps.
8. How big to Drill Holes for Cable Railing?
Intermediate posts need to be drilled to get the cable through. Drill holes about 5/64" (or 2mm) bigger than the diameter of the used cable to avoid excessive cable deflection.
9. How Long to run Cable Railing?
The recommended cable run maximum distance is 30 feet on straight runs when using a 1/8" diameter of 1 x 19 Construction Type 316 Stainless Steel Cables. A cable run consists of a cable tensioner, a cable terminal, and a wire. The rule of thumb is that on corners, cable runs end.
10. Do Cable Railing Rust?
Cable Railing made of Stainless Steel Grade AISI 316 do not rust when properly maintained especially in environments conducive to corrosion.
Passivating Stainless Steel
Stainless Steel Railing: Is It Easy to Clean and Maintain?
11. Is Cable Railing Safe?
Cable Railing is structurally safe and meets building code when properly installed. The Cable Railing structure relies on the tightness of the cable infills. End posts and corner posts need to be strong enough to support the pulling force of the cables.
Any opening shall not exceed 4". Though cable deflects; therefore, opening between cables should be less than 3 1/4" depending on the spacing between the cables.
12. How to tension Cable Railing?
Each cable run is made from one tensioner, one terminal, and a cable. Apply a tension meter tool on the cable, then twist the tensioner hardware enough to have your desired reading on the tension meter. Repeat this process on the remaining cable runs to have equal tension on all the wires.
Pro Tips:
Start tensioning from the middle cable and then work your way out to the top and bottom. Tension the cables equally using a tension meter.
Avoid over tensioning the cables. See tip sheet on how to use the tension meter.
Cut all the wires of the same run to the same length. Make sure that all the posts are leveled from all the sides.
Make sure your handrail or top rail is installed properly before installing the cables.
13. How to install Cable Railing?
To install Cable Railing Systems, you mount the posts or balusters with 4' maximum apart. Then mount the top rail tubing to support the posts from the pulling force of the cables.
Run the cables from End posts through Middle posts to End Posts. No opening shall be more than 3 1/4". Tension the cables equally. Use Cable Cutters to cut any wire excess.
14. What are the Pros and Cons of Cable Railing Systems?
When deciding whether to choose a Cable Railing Systems or not, you have to weigh the pros and cons and consider all important factors. Cable Railing for decks and porches is a common choice for homeowners. Whether Stainless Steel Cable Railing Systems are an ideal deck accessory comes down to your personal preference. It's about price, aesthetics, and maintenance performance.
Pros:
It is a more practical solution to your railing needs: a Cable Deck Railing, a Stair Cable Railing, or a cable balcony railing. It can replace traditional railing materials such as wood and glass infills.
It can significantly improve the appearance of the establishment without obstructing the view.
It can be easily configured to match the needs of your space with the help of correct products and tools such as the right Cable Railing kit, which includes post types, tension kits, and cables.
It is easy to install; in most instances, it wouldn't require any professional help for as long as your cable rail kit is complete with thorough instructions.
Cable Railing Systems make a good investment, especially if you are looking for a long-term one. It can significantly increase the resale value of your home.
It is a flexible railing option, especially considering the installation process, design, and usability. You can use it in homes, commercial establishments, and offices.
Stainless Steel has low maintenance costs and is 100% recyclable.
Cons:
The installation process of the wire railing is not complicated but will take some time.
Some city's building codes do not allow horizontally installing Cable Railing Systems; check with your locale building department.
Cable Railing Systems can be more expensive than the traditional all-wood railing. The added value offsets this upfront cost to your property.
15. What is the Cost of Cable Railing?
The cost of Cable Railing Systems usually ranges between $70 and $150 per linear foot. The price varies greatly depending on the material (wood is cheaper than metal) and how many corner and end posts you use. Cable Railing is moderately expensive for a railing system and more affordable than other railing types like glass and rods.
With years of experience, the Inline Design team can work with you to create an accurate quote for your Cable Railing project.
Request a Free Design Consultation
16. What is the Cost of Cable Railing vs. Glass Railing?
Glass railing is also popular among high-end homes. When it comes to visibility, these two are toe-to-toe — slim cables almost vanish from a distance, and panels of glass offer great visibility if they're treated to be glare-free. However, in terms of Cable Railing vs. Glass Railing costs, it isn't so close.
Cable handrails are often less expensive than glass, especially if you're using wooden posts. This is also true for maintenance — stainless steel railing systems prices drop quite a bit when you realize they don't need to be regularly wiped with a cleanser.
17. What is the Cost of Stainless Steel Cable Railing vs. Aluminum?
While prices vary between manufacturers, there's a clear winner in terms of Cable Railing made of Stainless Steel vs. Aluminum costs. Aluminum may be less durable, especially in saltwater environments, and require more maintenance, but it's less expensive than cable handrails. However, if you need a stronger and longer-lasting railing solution, Stainless Steel Cable Railing is a great investment.
18. Stair Cable Railing: Top Things to Consider When Installing
Stair Cable Railing Systems are a stylish way to complement the interior and exterior of a property. The discreet design and unique looks work with a wide range of décor, including modern, contemporary, and traditional themes.
A great way to update your home is by installing marine-grade stainless steel Stair Cable Railing on your staircase. This home area is often overlooked, yet it can create a focal point with a simple yet sophisticated design. For both small and large properties, a wire railing can easily open up a space. This high-quality popular railing option blends living areas and creates fluidity between different rooms in your home.
There are several essential elements to consider when installing a Stair Cable Railing system. Careful planning of your railing project will ensure a seamless and successful installation.
19. Choosing Stair Cable Railing Systems
Stair Cable Railing style will depend on your personal preferences and the area you are planning to install. There are a variety of options available that can be fitted by both DIY enthusiasts and professionals. A popular look includes steel frames and industrial styling, which works perfectly for people wanting to achieve a contemporary theme.
Other options feature Stair Cable Railing Systems with wood frames, creating a natural and subtle style. If your home is small, making the staircase an open and stylish feature can give the illusion of more space. The stairway railing does this by taking away visual barriers and contributing to an open-plan feel.
20. Planning your Stair Cable Railing Installation
There are many elements to Stair Cable Railing, but implementing this unique feature can be straightforward once you've covered the basics. The installation can be a "Do It Yourself" job, or you can seek the help of a professional. Whichever way you decide to undertake this project, ordering the railing is the next step.
Inline Design can produce Stair Cable Railing posts to your specifications if you have an idea in mind. Each part of the system is considered, from the post and rail spacing to the end caps and post railing design.
Using step-by-step guidance and providing detailed measurements can help you achieve a perfect railing system customized to your property.
21. Installing Safe and Stylish Stair Cable Railing
The right tools and guidance are essential for successful Stair Cable Railing installation. Make sure that your project complies with local building codes before you begin. Wearing protective clothing, gloves, and a breathing mask will also ensure your safety.
Here's a handy guide from Inline Design to help you with the process.
These simple yet effective documents guide you through each step of placing and installing railing parts to ensure a safe and secure staircase system.
22. Why Knowing Your Project Requirements is Important?
For large or complex projects, the installed Cable Railing system often includes handrails. It is recommended to double-check field measurements, dimensions, and finalized shop drawings to prevent bottlenecks. This crucial step can prevent delays and miscalculations during fabrication. If it is not possible to make field measurements, individuals may obtain guaranteed dimensions from their contractors.
Obtain guaranteed dimensions in writing by the Contractor—coordinate fabrication and delivery schedule of handrails with construction progress and sequence to avoid delay of railing installation.
23. Benefits of Professional Installation
Some people may prefer a professional installer for their Cable Railing Systems for that extra peace of mind. As railing is for Safety, Donnie Balvin from Inline Design explains that "It's advisable to get a professional because of this factor."Donnie also notes that "Handy DIY customers can install most of our products. But to install an entire system like our Arcadia, a welder is required since the top rail needs to be cut/mitered and welded on the job site."
Cable Railing is a practical and stylish way to make a home or business space safer.
24. References
Disclaimer: Customers are encouraged to call their local city for information about their local building codes(4). City building codes supersede national building codes. Inline Design is providing this information in an advisory capacity only. The company is not liable for any non-compliance with applicable building codes associated with railing installations.
Sours: https://inlinedesign.com/pages/cable-railing
25
26
27
28
29