Cricut Fonts – Everything You Need to Know
Everything you need to know about Cricut fonts, including the best Cricut fonts in Design Space by category: script fonts, bold fonts, fonts to use for monograms, etc! Make sure to bookmark this page so that you can reference it while you're making your projects!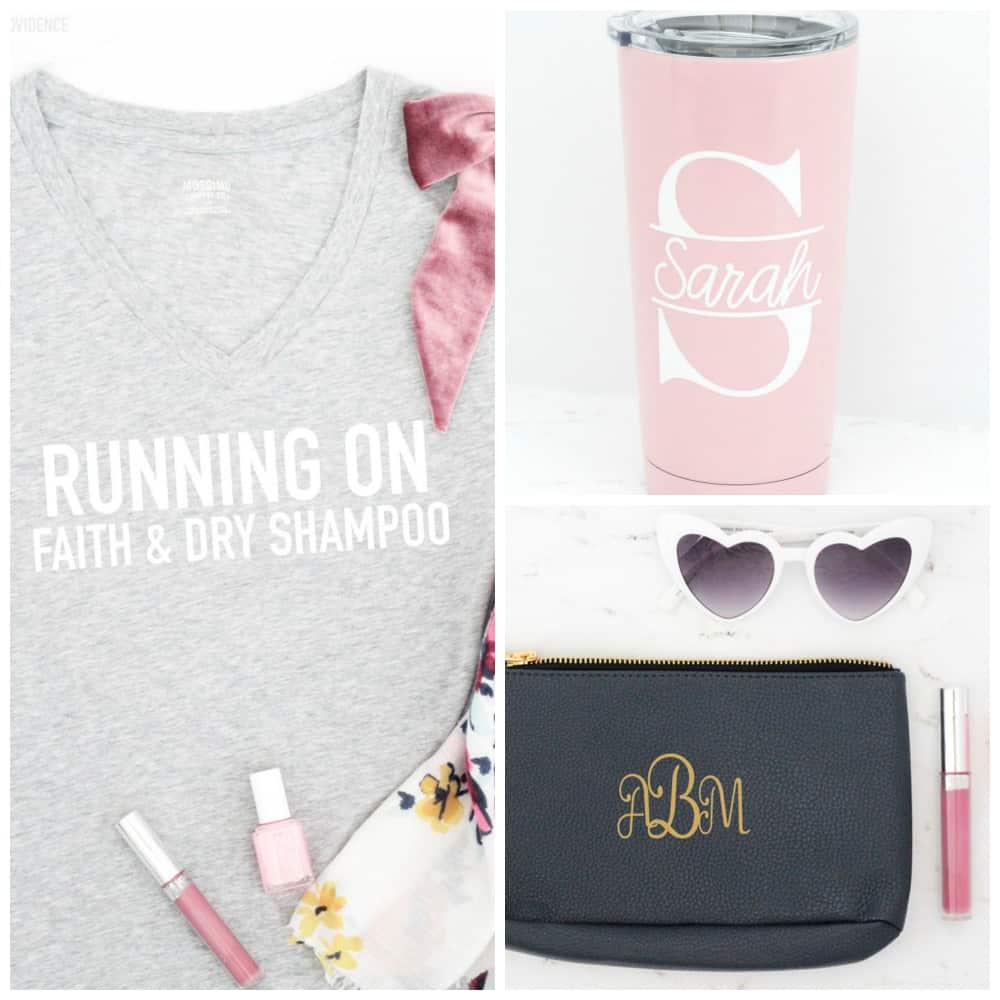 *This post contains affiliate links.
I have been making projects with my Cricut Machines and using Cricut Design Space for a couple years now. Since then, I feel like I have really become an authority on something – Cricut fonts. I've been asked a lot about what my favorite fonts are. When I made a quick guide including my favorite fonts for the Cricut Mountain Make-a-Thon last year, it was a hit. Lucky for all of us, Cricut has added a lot of new fonts since last summer!
I combed through all of them to share with YOU my very favorite fonts in Cricut Design Space, and organized them into categories; script fonts, bold fonts, font pairings, and some of the best fonts for monograms! While you're here, don't forget to check out our Cricut project gallery for some craft inspiration!
Video
I even decided to make a video for you explaining all about Cricut Fonts. If you prefer to watch rather than read – watch this. I even demo how to fix one of the most common issues people have in design space when working with fonts!
What are Cricut Fonts?
Cricut fonts are fonts that are built into the Cricut Design Space software. They are designed specifically for Cricut machines. Therefore, when you use one of Cricut's fonts, you will get a clean and beautiful cut every time. A lot of amazing fonts are included with a Cricut Access subscription. Read our post all about Cricut Access!
Can I use my own fonts with Cricut?
Yes. System fonts are the fonts that you have downloaded on your computer or device. When you open Design Space, you will have the option to choose from a list of either Cricut fonts or system fonts. Whatever fonts are installed on your computer or device, will be available in 'system fonts' automatically. No need for uploading or installing into Design Space!
Many system fonts will work great with a Cricut machine, but not all of them. Some of them are coded to have rough edges or extra details that are not ideal for use with a Cricut project. Choose system fonts that have simple, clean lines for best results!
How do you add fonts to Cricut Design Space?
Download a font and install it on your computer, and it will automatically show up under 'System Fonts' in Design Space. It's as easy as that! If you download a new font while you are working in Design Space, and the font doesn't appear in the System Fonts tab, you might need to re-start Design Space. Don't forget to save your project before you exit! Then, open it again. Your font should appear in the list.
Okay, now for the fun stuff!
The Best Cricut fonts – Bold, Serif & Sans Serif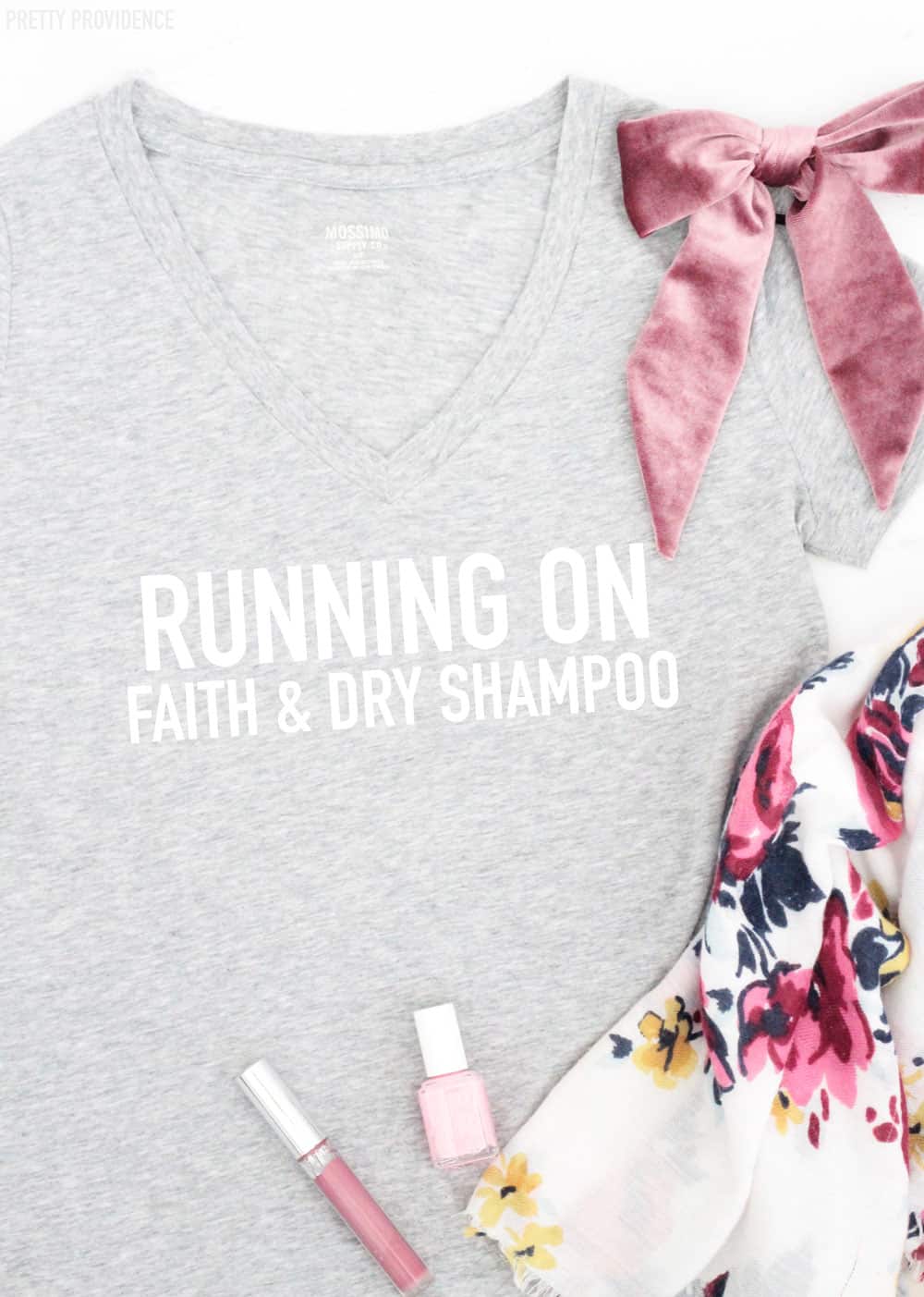 Out of all the fonts, I love a good bold font the most. I have used DIN 1451 more often than any other -that's the one on the t-shirt shown above. I just discovered Poker Night, though, and I can't wait to take that font for a spin. You can't go wrong with any of the fonts listed here!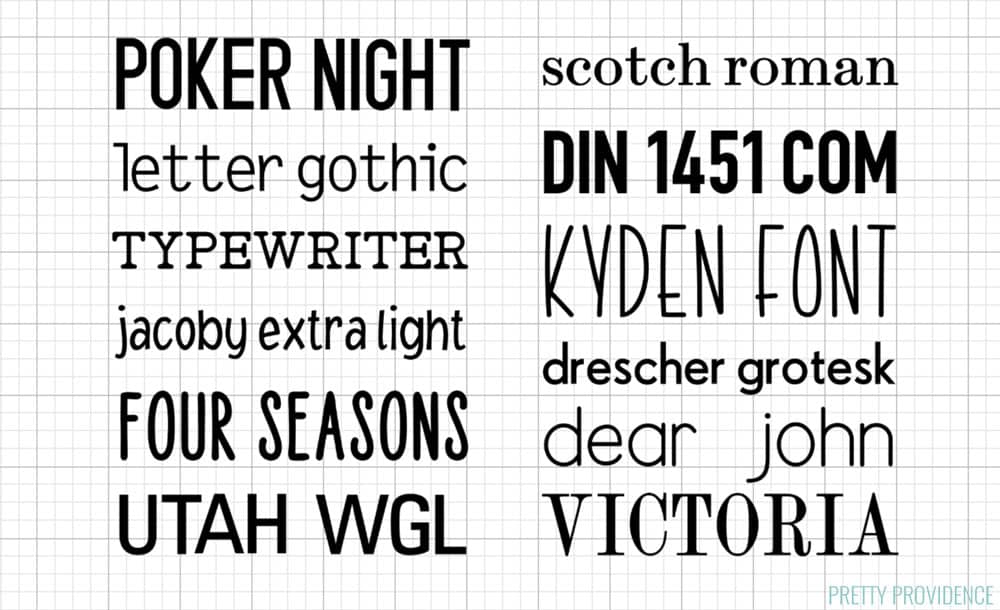 My favorite Cricut script fonts (aka cursive fonts)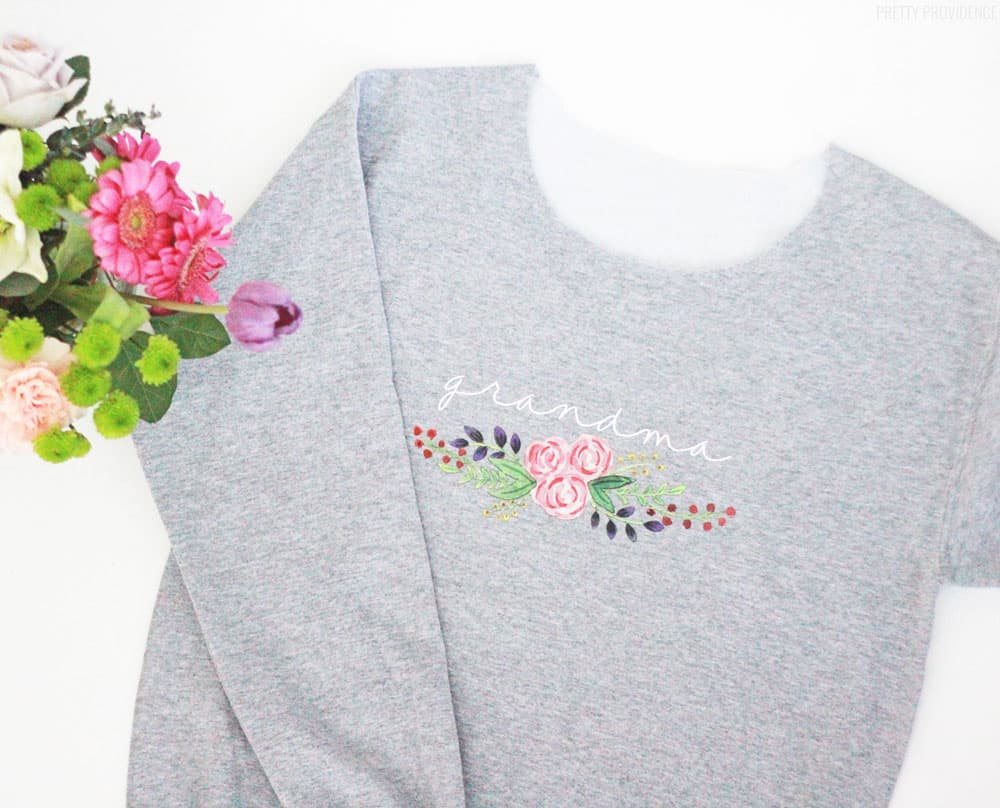 I love a good script font. I used 'Yours Truly' on this Mother's day gift for Grandma. There are so many good ones, but my absolute favorites are listed below. I have used Babette a lot, it's beautiful, fun and playful!
How to fix the spacing with Cricut fonts
Cricut fonts are set to be spaced at 1.2 as a default. That just doesn't work for cursive fonts! There are two easy ways to fix it. (I demonstrate both ways in the video above, so watch that if you would rather learn that way!)
Change the spacing in the navigation bar at the top – labeled 'Letter Spacing'
Ungroup the letters, and drag and drop them together one by one. This takes longer, but it often works better for cursive fonts because they don't always fit together perfectly when you use the letter spacing tool.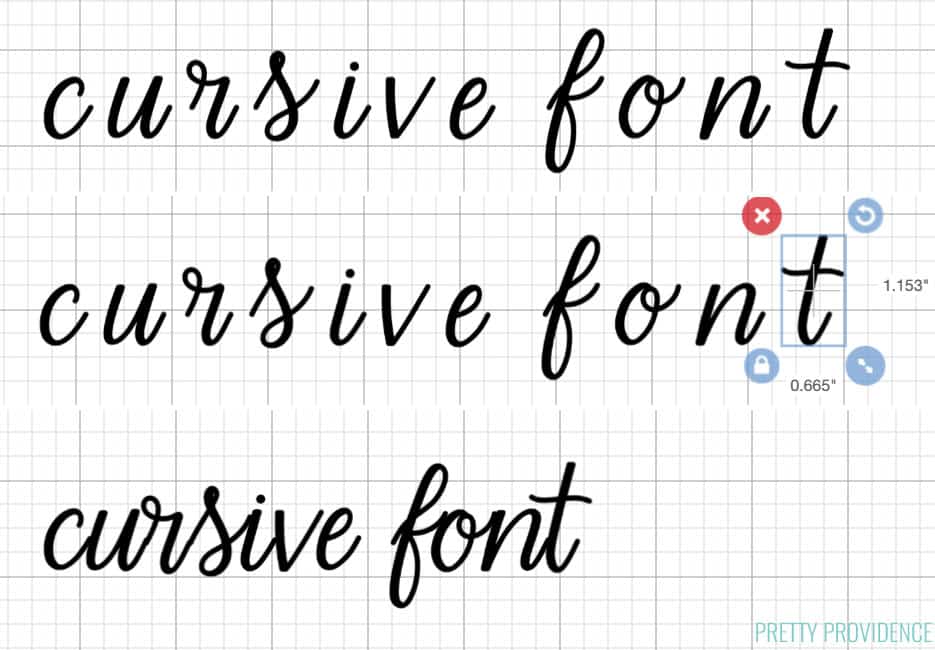 Cricut Fonts for Monograms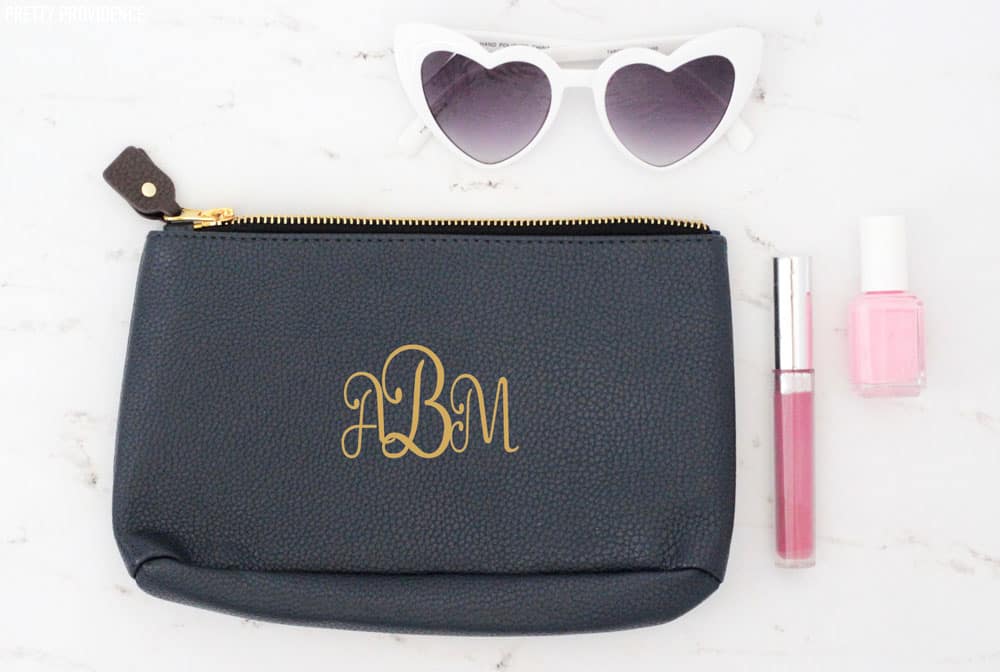 When I moved to Texas, I had no idea what Monograms were. I mean, I knew that people put their initials on things sometimes, but I didn't know that monograms were a THING. I've been educated now, my southern friends, I see you. Here are my favorite fonts to use to monogram all the things – pocket tees, makeup bags,stainless tumblers.You know they all need monograms.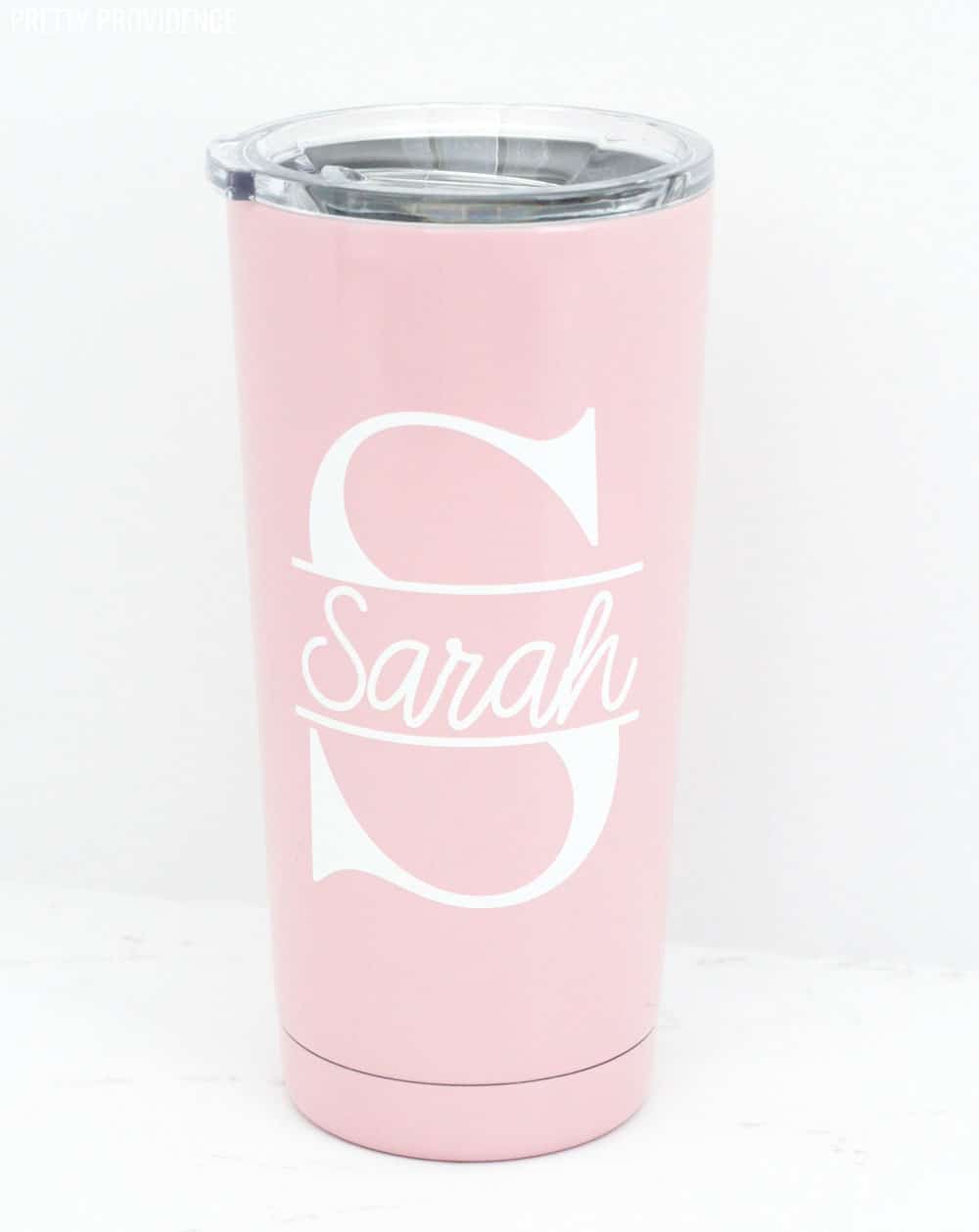 To illustrate both font pairing AND monogramming, I decided to make a fun split monogram for my stainless steel tumbler using permanent vinyl! The fonts I used are Emiline and Scotch Roman.
My very favorite Monogram Fonts in Design Space

If you like a cursive monogram, these are my favorite of the Cricut fonts. 'Fling' is my very favorite. I tried a lot of them. This is an art! It can't be *too* swirly, or *too* slanty or there will be too much overlap. (I know, these terms are so technical.)

Font Pairing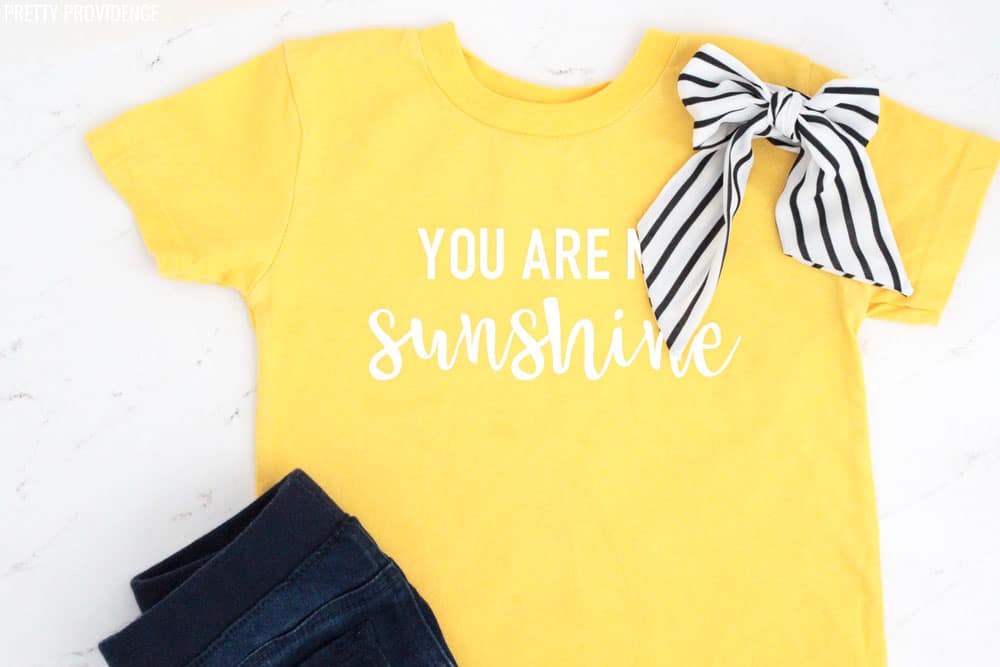 Putting two fonts together can go right, or very wrong! I like to pick fonts that are different weights – like one that is thick, and one that is thin, or one that is a serif, and one a sans serif. There are so many options for font pairings, so play around with it, but you can definitely use one of these combinations if you want ideas!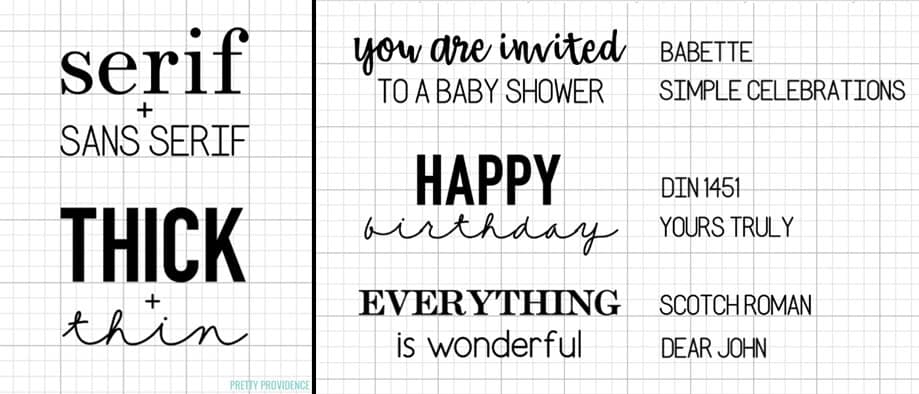 FAQ ABOUT CRICUT FONTS AND CRICUT ACCESS
What is Cricut Access?
Cricut Access is a subscription that gives you access to over 75,000 images, over 400 fonts, and ready-to-make projects! You get a discount on any and all Cricut products you buy, as well. Read all the details here.
Do I need Cricut Access?
Cricut Access isn't always necessary, but I'd say if you plan to craft as often as once a month, you would benefit from it. The subscription is a lot cheaper than buying images individually from Etsy or other digital art websites.
How much does a font cost in Cricut Design Space?
If you don't have a Cricut Access subscription, most fonts cost $4.99. Once you buy one, you can use it again and again for Cricut projects!
So, I hope this post leaves you inspired. Ready to make some projects?
Check out these Cricut tutorials:
How to Make a Custom Shirt with Cricut
Everything You Need to Know about the EasyPress 2
How to Use Cricut Transfer Tape
Cricut Knife Blade FAQ
How to Cut Fabric with Cricut Maker
How to Make Paper Flowers
Some of our favorite Cricut projects:
DIY Funny Socks
Modern Quilt Wall Art
Easy DIY Wall Decals
Custom Tote Bags to Organize All the Things
Laundry Organization Bags
Personalized Tote and Tumbler Teacher Gift
Paper Flowers Cake Topper
Do you have more questions about Cricut or a desire for more in depth tutorials like this? Check out this amazing course!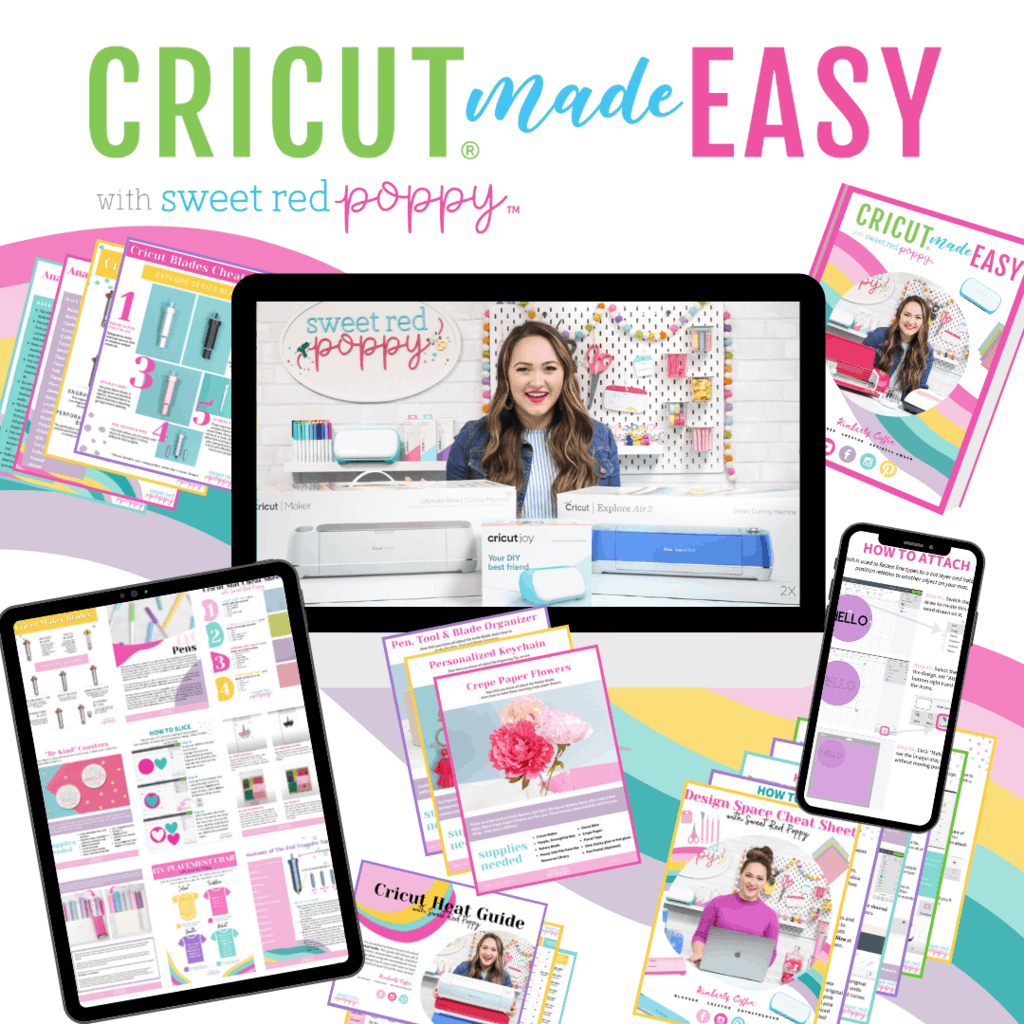 Our friend Kim from Sweet Red Poppy made this Cricut Made Easy Course and it is beyond amazing you guys! So worth it if you really want to invest in growing your Cricut knowledge. Here is a sampling of what it includes:
19 Video Modules(Chapters)
50+ Step-by-Step Video Tutorials
30+ Cricut Cheat Sheet Printables
160+ Page E-Book "Maker's Guide to Cricut"
All 3 Cricut Machines Covered (Maker/Joy/Explore family)
16 Different Projects with Printable Guides
80+ High-Quality SVG Files
Print then Cut Sticker Files
Design Space Glossary
Exclusive Facebook Support Group
Tips and Tricks from an Expert!
Click here to check it out! Or just go to our Cricut project galleryto see ALL of our Cricut projects and tutorials!

Share this!
Sours: https://prettyprovidence.com/cricut-fonts/
This is a collection of my favorite Cricut fonts from all put into a simple cheat sheet.
Cricut fonts chart
After you've been Cricut crafting for a while, the number of fonts you use can get a little overwhelming. Between the Cricut Access and free fonts that come with the software and all the ones I've downloaded from other external sites, I have hundreds of fonts by now.
The reality is I actually only end up using just a handful of those fonts. So I made a little cheat sheet of my favorites.
Now, I have my own reasons for picking these which may be different than yours so I'll try to explain myself a bit.
Best cursive fonts on Cricut design space
I love doing Cricut calligraphy (or faux hand lettering as I like to call it). Here is my full tutorial on how to hack your way to making everything think you have great handwriting. I use cursive writing fonts as a base for my Cricut calligraphy. While the actual text here doesn't look that impressive, it looks super cute once you've finished the text with some proper highlighting.
My go to is always Babette font but Haley is a close second. Don't be put off by the weird connecting lines of Loop Di Loop and Merlot. Someone messed up the written version of the font vectors in the version of the software when I was taking this screenshot so I had to make do with what I had.
Cricut font pairings
Faux calligraphy with the Cricut doesn't have to be limited to cursive written fonts. It always looks great to pair a cursive bouncy font with a non-cursive one.
Here are a few of my favorites. There are plenty of san serif fonts that work as written fonts but I prefer the ones that already look hand written. I find it just a little strange the combination of hand written and Arial font.

Best cricut fonts for vinyl
I do make my fair share of iron on projects and vinyl decals but I actually use vinyl quit a bit in wall art and lettering for cards. For these scenarios, I like text that is relatively easy to weed.
I know you can filter for "cutting" fonts on Cricut Design Space but not all "cutting" fonts are all that cutting friendly. I don't like super thin lines and too many loops, it makes the weeding process nearly impossible some times.
Here are a few Cricut fonts that I like that aren't too much of a headache to cut in vinyl.

Farmhouse fonts on Cricut design space
I also like the look of Rae Dunn and do some projects that are Farmhouse inspired. My go-to fonts for those projects include Kyden, Straight and Simple and Rumors.
Cricut fonts with tails
I have yet to find fonts within Cricut Design Space that have nice flourish and glyphs. I usually go external for that.
You can find most popular fonts on dafonts.com but here is my full list of places where I find my fonts.
Here are a few of my favorite hand lettered fonts with flourishes: I love Glitter, Amanise, Shorelines, Serenity and Raustila
For a printer-friendly version of these font cheat sheets along with access to 300+ free craft templates, sign up for my free templates and tutorials newsletter:
Related Articles:
All Paper Flower Tutorials
All Cardmaking Tutorials
All DIY Decor Project Tutorials
Sours: https://domesticheights.com/cricut-font-cheat-sheet/
Hello Daydreamers!
Fonts give life to your projects, and today you will find the best fonts to use for your Cricut (or other cutting machines) projects.
This article is not just a list of fonts; that would be…
Mmm, I don't know…
BOR-ING!
More than a list of fonts, you will be learning a little bit about them, how to use choose the right ones, so you feel empowered to make beautiful projects that will last forever.
The information you're about to read is precious gold. Check out the points I am going to be covering in this article:
A quick overview of font types
What to look for when using a font for cutting purposes
Free Fonts, where to find them, considerations, tips & tricks
Premium Fonts, where to find them, tips & tricks
Cricut Fonts notes about writing and multilayer fonts.
Caution when using fonts with trademark characters
Are you ready?
Let's get started!
Quick Overview of Font Types
I know, what you're thinking, give me the list of fonts now!
Learning about font types may sound boring to you, but knowing the terminology will help you to make you faster at combining, finding, and choosing the perfect font for your project.
Getting the right font for your project will determine whether it looks good or sucks. I want to teach you beyond listing a bunch of fonts, trust me!
It seems there are so many types of fonts out there, with different names and combinations. I am not a font expert. However, I read multiple articles to bring this information to you in the most straightforward way.
Keep in mind, every article I read had the fonts in different categories. Not one article was the same.
But…
Let me explain to you what you need to focus on for this article.
In the realm of fonts, there are four different main types of fonts. Serif (Serif, Sans Serif, Slab Serif), Script, Decorative, Dingbat (doodles) fonts.
Serif, Sans Serif, Slab Serif Fonts
These types of fonts are everywhere, and they are the fonts people usually use to write papers, books, and essential documents. They are also crucial during the design process because they add a certain level of order.
You don't want your Cricut Projects to look with all curvy fonts. You want to add balance.
Although they all share the "Serif" in their name, they are quite different when you pay attention.
Here's a common font for each "Serif" font.
Serif – Times New Roman
Sans Serif – Arial
Slab Serif – Courier New
Most likely, these fonts are pre-installed in your PC or phone.
Script Fonts
Scrip Fonts are what I call "fun fonts" they add life and sparkle to your designs.
Be strategic about their use, though!
The extended use of these fonts can ruin your design, or just make it impossible to read. Again, it's a balance.
Most common Script fonts are those gorgeous handwritten letters with curves and beautiful swirls. They usually resemble cursive or calligraphy writing.
Decorative Fonts
Decorative fonts are fonts that their letters are more than a "letter." They have flowers or pronounce swirls around them. They look nice for monograms or invitations.
Dingbat Fonts
These are what I call "doodle fonts," and they are one of my favorite typefaces because instead of typing regular words, you are typing cute little images or icons.
Doodle fonts add SO MUCH VALUE to any design, and I recommend them for making SVG files.
Every dingbat font is different, and you can find them for every occasion you need!
What to look for when using a font for cutting purposes
Now that you know all about the types of fonts let's look at the things you need to look for and avoid in a font.
When using a Cricut or a cutting machine, your best allies for the final result of your projects will be smoothness and thickness.
The smoothness of your fonts and images, in general, is essential because your machine will have an easier time to cut them.
The same thing happens with the thickness of your font when your fonts are thick, you can remove them very easily from your mat, and you also have more room to make small and intricate projects.
As you start making projects, you'll get the feel of how thick your font needs to be, considering the materials you are using.
For instance, if you are cutting a font for a cake topper (read my tutorial), you want a thick font because they will make your project stronger. On the other hand, if you are using vinyl, thin fonts are very easy to work with.
Tip: If, for some reason, the font you want to use is skinny, try to thicken it in Cricut Design Space by changing the font style to "Bold." You can learn how to do this in my how-to edit text tutorial.
Now check out the fonts you should avoid. Some of them look quite beautiful, but, in some cases, they are a recipe for disaster.
Let's start with Rough Fonts.
At all costs, you want to avoid fonts that don't have a smooth stroke around them. Some of the fonts you see in the infographic down below are nearly impossible to cut with your Cricut.
You see, rough fonts have multiple spots that can be very tiny and hard for your machine to cut around.
Thin fonts, as I mentioned, are lovely, and they can be used, just make sure they are big enough, and you are using materials that don't tear easily.
Although these are good practices, rules can be amended, so play with fonts, make mistakes, learn, enjoy your machine, and don't be afraid to experiment.
---
Now that you know about the best and the different types of fonts that exist and also the ones you should use/avoid with when using your Cricut machine, let's dive about the best free fonts out there.
Best Free Fonts and where to find them
We all like FREE!
There are thousands of free and beautiful fonts you can use for your Cricut projects.
Although the fonts I am about to list are FREE for you to download and install on your computer. You need to make sure that you read their license. Sometimes, artists are very generous and allow users to use their fonts for personal use.
Personal use, as you don't make from the designs you make with them!
If you are planning on making money from the designs you make from their font; there's usually a link for you to buy them.
Please, respect that agreement for personal or commercial use, not only you want to avoid trouble, but you also want to be honorable.
Since I don't own a commercial license for these fonts, and I don't want to get in trouble, I don't have a little preview for them. They are all super beautiful though, so click away!
Free Sans – Sans Serif – Sans Slab fonts for Cricut
Free Script and Handwritten Fonts for Cricut
Free Decorative and Ding Bat (Doodle) fonts for Cricut
The fonts I just linked to are from dafont.com. Most of them are free for personal use only. For similar websites also visit 1001 fonts.
There are other websites where you can find fonts that are free for commercial use, like fontsquirrel.com and google. Mind you, those fonts, although there are some jewels, they aren't as beautiful as premium fonts.
Don't lose hope, though!
In the next section, I have the places where you can find FREE fonts for commercial fonts!
Best Premium Fonts (Also Free, some of them)
Premium fonts are my favorite fonts, I used to love free for commercial use fonts, but I found out that my projects needed more spice and unique touches.
There are many places where you can buy fonts for commercial use. My favorite ones in order are:
Creative Fabrica
Hungry Jpeg
Font Bundles
I used to love CreativeMarket as well, but their licensing became so overbearing that I decided not to buy there anymore. In fact, if there's a font I love, and it's only there, I just don't buy it.
That's why I love the other three websites I just mentioned!
They are all amazing, with fabulous designers. Many of them are on all platforms.
Do you know what's the best of those websites?
HEADS UP! – CreativeFabrica.com (I love this company) is having a super bundlethat includes 500 fonts and 1300+ Mandala, Monogram, & SVG Quotes and is priced at only $19 (down from $10,063) and all of this comes with a lifetime commercial license.
They reached out to me with this great deal, and I just have to put it on this article because they don't come out very often.
I get a small commission if you buy through my link.
They all have FREE FONTS FOR COMMERCIAL USE!
But what are the best fonts?
I've found over the years that less is more. It's very easy to be overwhelmed by the number of fonts out there. These are the font's I use with my Cricut, and that I love.
Most of these fonts come with pairing fonts. Meaning, that when you buy the font, you have different types (script, sans serif, dingbat). So for the price of one font you get 2, 3 or more!
Isn't that amazing?
Special Note about Cricut Fonts
In the Cricut world, you'll find another two types of fonts. Writing and Multilayer fonts.
Writing Fonts: Allow you to write on a single line. They are ideal for making invitations, gift tags, greeting cards, etc.
Writing fonts are so different from regular fonts. Regular fonts are similar to "shapes" they have width and height. So when you write with your Cricut Pens, you will be drawing a double line.
Writing fonts, on the other hand, aren't shapes. They are single strokes (vector lines). Therefore, you can draw without double lines.
Multilayer Fonts: Consist of two layers or more layers. They are usually outlines of the fonts, but you can also find decorative options for different types of occasions.
There's really no FREE multilayer fonts for Cricut. So if you want to use them, you'll need to purchase them before you cut them, or use them unlimited with Cricut Access.
Where Can I find Free Writing Fonts for Cricut?
All fonts where you look online will have a hollow effect when writing with your Cricut Pens.
I tried searching for "free single lines vector fonts," and nothing (worth your time) came up.
Don't lose hope, though!
Many FREE fonts can be used to write with a single stroke effect (no pesky double lines) when you choose the right font and size it appropriately.
When it's time to write, your Cricut will still do two passes, but if you use the tips I am about to teach you, the passes will be very close to each other; therefore, you'll create a "single stroke" effect.
It's not 100% accurate, and you'll have to resize and test the fonts to see if they fit your needs.
Here's the list of the free fonts you can find for this purpose (they are all script).
Note: Remember that these Free fonts are for personal use only.
There are way more, but these are the ones I tried and got a license for so I could bring this tutorial to you.
The perfect fonts to trick your Cricut into writing with a single stroke effect must be very thin, and small in size.
For me, the best way to identify the perfect size it's by:
Typing your text in design space with the font you want to use
Organize text to fix script font. Here's how to do it.
Change linetype from "Cut" to Draw."
Zoom in to 200% and size down until you can't see any hollow spaces on the font. A tiny space it's ok.
Check to see if the size you are using fits your project.
Send it to write and test the results. (Check out my how-to-use Cricut Pens tutorial)
Note: If you use Pens with a 1mm tip (markers), you can get away with seeing a small hollow line in Design Space. The good thing about using markers is that you can write larger text.
The problem you'll frequently encounter with this method, it's that when you are sizing down, you will also lose details of letters that have hollow spaces like the letters "e, o, r, etc."
Check out the following images so you can see how these fonts look when you use them with Cricut pens and markers.
Using a 0.4 Pen
Check out the details of the fonts as they increased in size. Some of the fonts (England, Meillyne) worked great on the first three sizes.
On the other hand, when the font was increased to a larger size, the fonts were drawn with hollow spaces.
Using a 1.0 Marker
Look at all of the details that were lost in the first image. You can't even read some of them.
However, notice how amazing some of the fonts look when you increase the size. "England, Mirrafella, Merillyine, and Heart" look perfect!
It's really up to you to experiment with size and different pen sizes to see what looks best for you.
Cricut Fonts you should probably get
Cricut has a fantastic library of fonts. The good thing about their fonts is that they are designed to work with Design Space!
However, the GIANT negative of their fonts is that you can only use them with their software.
I think that with all the free fonts out there, you can get away with not using theirs. But, they do have some pretty cool fonts you won't be able to use anywhere else.
These are Multi-Layer and Writing Fonts.
If you don't have Cricut Access (read my guide), I recommend you buy at least five fonts from Design Space so you can take advantage of your Cricut.
A Frightful Affair (Writing)
Awesome (Writing)
Cricut Sans (Writing)
Bicycle for two (Writing)
Babette (Writing)
DonJuan (Multi-Layer)
Zoo Day (Multi-Layer)
Varsity (Multi-Layer)
To buy Cricut Fonts, you need to login to Design Space, choose the font you want to work with pay before you cut, print, or write. Unfortunately, there are no links for fonts :/
Your Cricut does come with a set of free fonts, so make sure to check them out to see if they suit your expectations. They are usually at the top of the search font box.
Are you planning on using a font to make a project of a trademarked character?
Now, let's talk about these beautiful fonts that resemble popular movies or characters.
Fonts to support the creation of designs of characters of movies that are Trademarked or that are Copyrighted it's a widespread practice.
I see multiple blogs, Etsy stores, and other online websites that are making digital files to reach people, and let me tell you that this practice is illegal, and you can get in trouble.
Although the fonts on their own are just fonts when you pair them with characters or phrases from Disney, Hello Kitty, etc., you can get in trouble.
If you want your T-Shirts from this special characters for personal use, get legal images from Cricut's images.
What Do You Think?
Did you find your dream font in this article?
Which one was it?
Can you guess which fonts are my favorites? Let me know in the comments!
Do you know that it takes me over 25 hours of work to complete a single Cricut article? I know, it's crazy! But I like to make sure that you understand EVERYTHING!

I would appreciate your support on Instagram / Pinterest / YouTube / as I am trying to grow my audience to keep producing great content!
Oh!
And just so you know, I also have a library full of free SVG files and Printables for all of my subscribers, a.k.a Daydreamers. You can see a preview right here or get access by filling this form.
Sours: https://www.daydreamintoreality.com/best-fonts-cricut-free-premium/
FREE FONTS for CRICUT DESIGN SPACE - How To Download Fonts for Cricut - Mac, iPhone, or iPad
.
Cricut with that fonts come
.
How to Find, Download, and Use Fonts to Write With Your Cricut Cutting Machine
.
Similar news:
.
34
35
36
37
38