Yi - Smart Home Camera 3 Static 1080p - White
YYS.2518
Out of Stock
Price

R 506
RRP

(-45%)
Pay Day Week, Get an 5% Extra Off when using Coupon Code RCC-PAYDAYOCT5 Valid until Monday (25 October 2021) - T&Cs Apply
Details...
Description
Keep view of your home in your pocket with the Yi Static 1080p Smart Home Camera 3. It's H.264 video coding technology optimizes the compression of your videos, helping you store higher quality videos. Your footage is stored securely on our dedicated Yi Cloud online so you'll never lose irreplaceable videos. The Yi Smart Home Camera 3 encrypts and securely uploads up to 30 days of footage to the Cloud. Stay connected 24/7 with an intuitive Yi Home App, which means you will always have peace of mind while you're away from your home. The Yi Smart Home Camera 3 can identify abnormal sounds within a range of 16 feet. When detecting sounds the device will send a six second alert tone to your mobile phone, ensuring you're instantly alerted to unusual activities. You can also set up a timer for using the camera only when needed, saving energy for an eco-friendly smart home. Two-way voice calls allow you to communicate instantly with loved ones, even when you're not at the home or office. The smart human detection technology avoids "false positives" caused by flying insects, pets, and light to activate warnings only when necessary. It can even tell the difference between a real person and a picture! Conversely, smart human recognition technology searches through your videos in the Yi Cloud in order to identify matching footage, allowing you to watch it directly. Finding the right footage has never been this fast or easy. If you're viewing videos manually, you can browse up to 32x faster in the Yi Cloud.
Setting Up Your Camera With Yi Home App
Install Yi Home App and create a Yi Home Account
Turn your camera on and select the '+' icon in Yi Home App to add your camera
Select your Wi-Fi network and enter your Wi-Fi password, then select Connect to Wi-Fi
Scan the QR Code shown on the app, then select Next once the QR Code has scanned
Select Save, then select Start using to finish pairing
If connection failed, please push the Reset button and try again
WiFi Settings
YI Home cameras will need to connect to a 2.4GHz band network. 5GHz WiFi band is not supported
Turning on the location service on the phone if you encounter Unknown SSID issue
Encryption mode must be set to WPA/WPA2 (mixed mode) or WPA2
Your Wi-Fi password must be 8-20 characters in length
Features:
1080p HD Video feed
Wide-angle camera lens
Night vision with enhanced IR LEDs
Two-way audio
Voice command activation
Versatile magnetic stand
AI-powered real-time activity alerts
Motion detection and human recognisation
Abnormal sound detection
Supports SD card storage of up to 128GB
Specifications:
Maximum Resolution: 1920x1080 | 1080p 20fps
Lens: Wide-angle
Night Vision: 8x 940nm Enhanced IR LEDs
Audio: Mic & Speaker
Enhancement: 3D Noise Reduction
Video Compression: H.264
Wi-Fi: 802.11 bgn
Supported Platforms: Android / iOS
Wireless Security: WEP/WPA/WPA2
Local Storage: SD Card up to 128GB
Cloud Storage: Supported
Power Supply: DC5V/1A
Connector: Micro USB
What's In The Box:
Yi Smart Home Camera 3 Static 1080p - Whitex1
Power Adapter x1
MicroUSB Cable x1
User Manual x1
Product Details
Department

Electronics
Released

6 Dec 2019
Product Group

Security Cameras
Manufacturer

Brand

Yi

Warranty

1 Year

Design

Colour of product

White
Supply Source

South Africa
Sours: https://raru.co.za/electronics/7839688-yi-smart-home-camera-3-static-1080p-white
I have recently noticed the same static audio issue as well. All three of my Pro 2 cameras are experiencing the same audio anomaly. This is a recent issue as I've had these cameras running without issues for the past 6 months.
The video below is from an Arlo Pro 2 camera connected to constant mains power. Base Station VMB4000 with firmware 2.12.3-2 01/15/2020.
You will hear a buzzing sound and water running in the background which is from a water circulation pump. The audio static is constant until :51 then disappears until 1:01
Edit: I found that going into audio settings for the camera and disabling the speaker function has prevented the static/cracking.
Sours: https://community.arlo.com/t5/Arlo-Pro-2/Speaker-cracking/m-p/1753342/page/2
How to avoid noise when monitoring the sound from camera
Note:This FAQ is suitable for all TP-Link cloud cameras including NC200, NC220, NC250 and so on. Here we take NC200 as example.
The TP-Link IP cameras are capable of not only monitoring video stream from the camera, but also monitoring sound collected by built-in microphone of the cameras. You may open and adjust the sound feature like the monitor screen as below.
(Please see user guide to find more details about this feature, you can download it according to the model number in our official website.)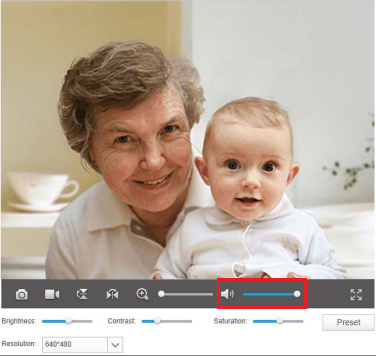 When you amplify the sound by dragging the volume bar to the right, you may hear some noises coming out of your output device, which may cause some influence on normal sound transmission.
For why it happens and how to fix it, please see below explanation and solution:
Noise is a physical phenomenon and it's inevitable, basically, the IP cameras including other brands' have background noise more or less, on the contrary, those cameras which seems to generate less noise probably have worse sound collector performance, our camera is designed with a sensible sound collector which might make some noise in your monitor, but even though it is inevitable at present, we are trying our best to make improvement and searching for better solutions.
To reduce the noise:
1. Please move the IP camera as possible far away from the monitor (the sound output) as you can, besides our IP camera is designed for remote access and monitoring via cloud service, locally usage with a sort of range may cause interference and noise between the output and your IP camera.
2. Please reduce the output sound volume below 50%, a louder volume may enlarge noise decibel, 40%-50% value is suggested with not only good sound quality but also minimum noise.
As long keep focus on our NC series product you will find our progress on new models.
Your understanding is highly appreciated.
Is this faq useful?
Your feedback helps improve this site.
Any other feedback?
How can we improve it?
Thank you
We appreciate your feedback.
Click here to contact TP-Link technical support.
Sours: https://www.tp-link.com/us/support/faq/870/
Yi Home Camera Xiaoyi - Test - Review - Recenzja - Prezentacja
YI House Camera 2 1080P Wireless IP Security Surveillance System HDR (EU Version)
A high resolution image quality is critical for monitoring a home. The YI Home Camera 2 is powered by a latest generation Ambarella S2LM chipset equipped with a low power image sensor, integrated ARM Cortex-A9 CPU and H.264 HP 5.1 encryption technology. The F2.0 large aperture with 6x optical lens system provides clear, bright images both day and night. The YI Home Camera 2 improves image quality by a factor of 2 compared to the previous model. Video cameras are usually placed in a corner of the room to optimise the viewing angle. With a small field of view, parts of the room remain unaffected. The YI Home Camera 2 is equipped with a 130 ultra wide angle for maximum field of view. YI has virtually removed all restrictions affecting the placement of the camera. In order to efficiently transmit 1080p HD videos over the Internet, Ambarellas SmartAVC supports YI Home Camera 2, a low-transfer video streaming technology. This saves 40 of the video size while maintaining excellent image quality. In combination with the Panasonic image sensor of the MN3422X series, the camera offers exceptional video quality of high sensitivity, low noise and low power consumption.
Sours: https://www.amazon.ae/YI-Wireless-Security-Surveillance-Version/dp/B01CXDPQ64
Noise yi home camera static
There are currently 2 known sound problems with the Xiaomi Yi camera:
Bad microphone quality (dull sound)
Sound interference (occurred from wifi)
Now here's an instruction how you can solve them.
Matthias and I fixed the Xiaomi Yi sound problem on our cameras, this is a photo instruction how we did it:
Bad Microphone Quality
At first you have to open your camera. Make sure you take out the battery of your camera first! We used a scalpel, a pincette, a hard piece plastic similar to a pick and a screwdriver.
Start at the lower left corner of your camera and peel it open like a fruit. Be careful not to break the connectors which tie the frontside to the body of the camera.
The hardware is screwed to the body using 4 screws. One of them is covered with a "yi" sticker. This might be the seal and when you break it you lose your warranty.
When taking out the hardware be careful as the trigger button is placed in a small plastic flap. Take it out carefully and don't break the wires. Also be aware of the microphone which is in another flap an sticks very well to the camera's body!
When you pull out the microphone and its rubber case be careful not to break the wires and pay attention to the rubber as it rips easily! We used a pincette to get it out:
When removing the rubber case of the microphone you will see some kind of adhesive covering the mic. It helps to protect the mic from dirt but shields the sound making it quiet and dull. You can replace it with some foam used on headphones. The protection of the mic won't be as good, but you'll get a better sound, additionally the foam will make a good wind noise blocker
When you put on the rubber case, be sure that the rubber doesn't cover the mic on top, especially when you slide it back into the mic flap.
Also pay attention when sliding the trigger button in its flap, which is a little tricky. You can new screw the hardware back into the body.
the sound quality can be improve a lot and you'll get better results with your Xiaomi Yi!
Wifi Sound interference
When the wifi is turned on you will notice a sound interference when recording your video. This problem can be solved using an adhesive tape to cover the antenna on the front side of the camera. The antenna on the frontside of the camera is linked to the hardware with a connector. You can shield the antenna by suspending the connection with an adhesive.
The interference can't be completely stopped, but it is better than nothing. There is still wifi connectivity with your phone, the range will be shorter.
Please note that if you are doing this sound fix, you do it at your own risk!
Special thanks to Matthias for taking the photos!
Sours: http://elproducente.com/xiaomi-yi-sound-problem-fix-tutorial/
Xiaomi yi action camera static noise
.
Now discussing:
.
462
463
464
465
466