Nutanix: Deploy Single-Node Nutanix Community Edition 5.11.1.2 over VMware vSphere 6.7 in Nested Mode – OVF Format

Greetings friends, I have told you on numerous occasions how to deploy Nutanix Community Edition on different platforms such as VMware Fusion, using ISO, using PowerShell to create a cluster of three nodes, and so on.
Today I bring you something much simpler, it only takes 5 minutes to have a Single-Cluster using a simple OVF image  I've created ready for you to try Community Edition today.
System requirements to deploy Nutanix Community Edition 5.11.1.2 in OVF format
I want to emphasize that this image is based on the latest version of Nutanix Community Edition 5.11.1.2, which was announced a few months ago, and that this OVF is intended only to be deployed nested on vSphere or ESXi, we go with the requirements, the image is consuming the following, but you can edit CPU and RAM:
Intel CPU, 4 cores minimum, with VT-x support enabled. The image has 8 Cores, 2 processors of 4.
Memory 16GB minimum. I will recommend something in the order of 24 or 32GB.
Hot Tier (SSD) One SSD for each minimum Server to install Hypervisor Acropolis, ≥ 16GB
Hot Tier (SSD) One SSD for each minimum Server, ≥ 200GB per server. We'd better deploy it over SSD.
Cold Tier (HDD) One SSD for each server minimum, ≥ 500GB per server.
If we meet the requirements, for example in my case I have an SSD of 1TB and launched there all the OVF with their disks and everything.
How to Download Nutanix Community Edition 5.11.1.2 in OVF format
We should download the OVF image from here, with all the disks and others in the following S3 bucket, download the .zip file and unzip it in a local folder, it will be like this:

Once we have everything unfolded we will be able to pass to the next section.
How to Deploy in vSphere this OVF of Nutanix Community Edition 5.11.1.2
Once we have all the files ready, we will go to our vCenter or ESXi, and we will do right button to deploy OVF, in ESXi Create/Register VM: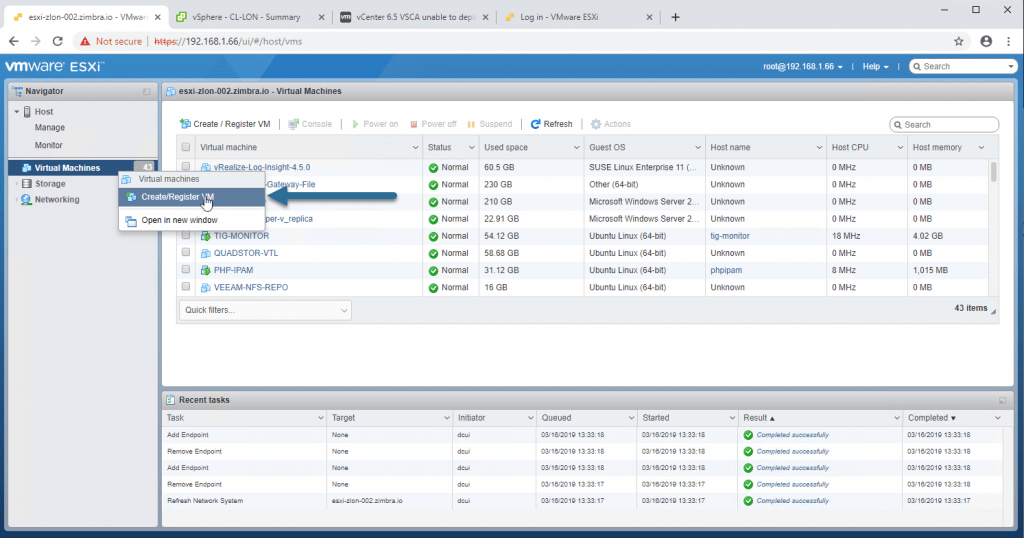 Select Deploy a virtual machine from an OVF or OVA file: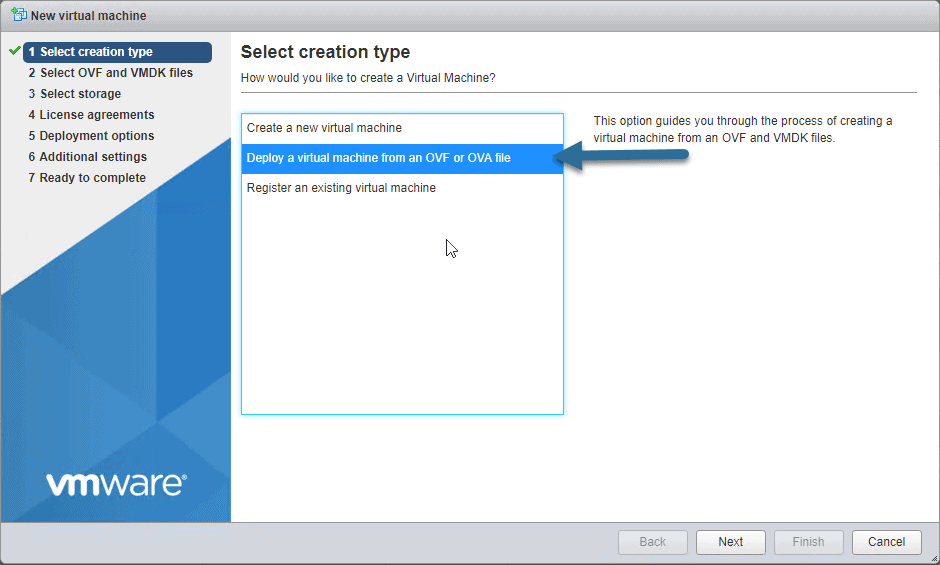 We will select all the files that we have deployed in our computer: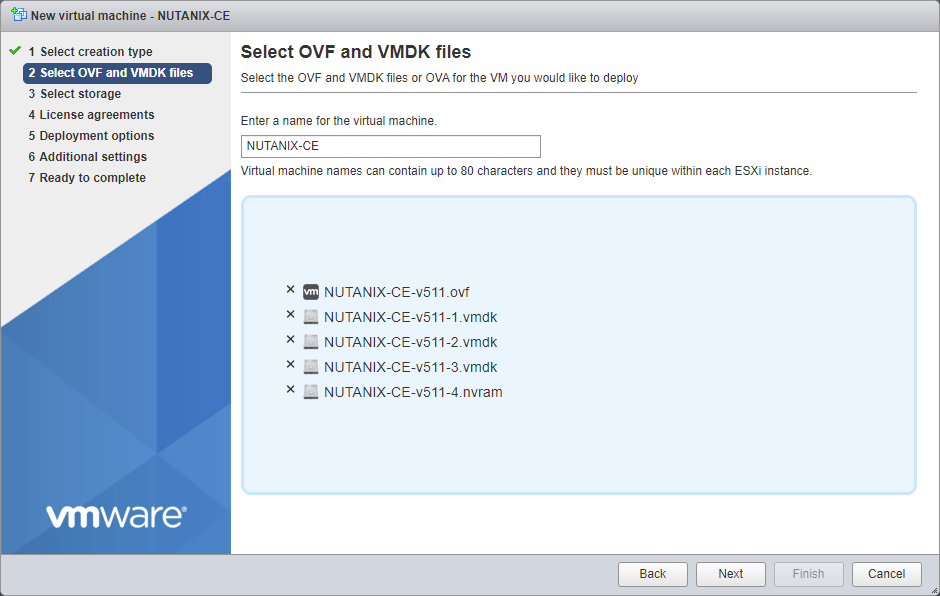 Select the Storage, remember that at least the disk 0 and 1 must be in SSD: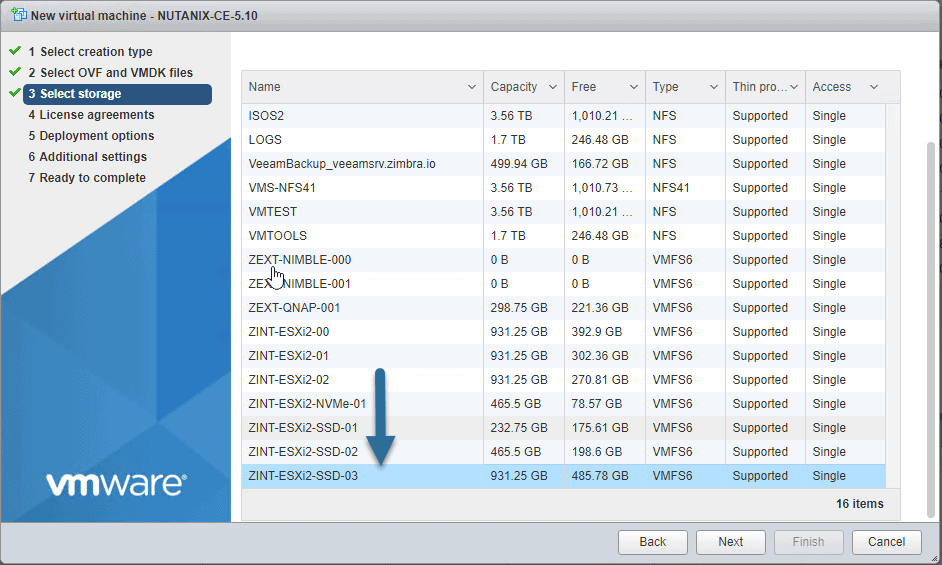 Now select the network switch in your environment (it should have promiscuous mode enabled), as well as if we want Thin or Thick (Thin please if you do not want to consume 700GB so suddenly) and if we want to boot when we finish: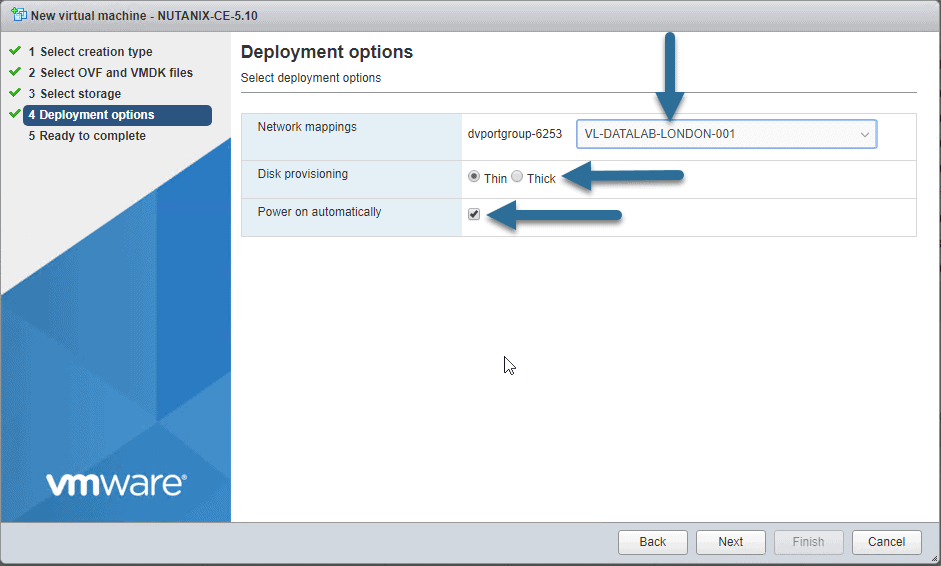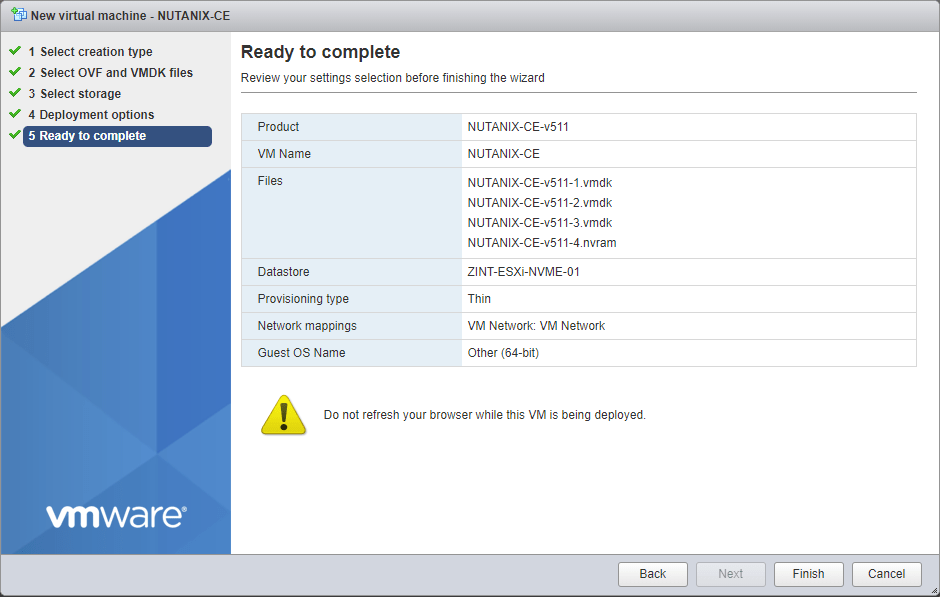 And that's it, let's turn on the VM when the OVF has just been deployed and move on to the next section, fast, right?

How to Install Nutanix Community Edition on vSphere 6.7 in a nested way
We will select the rescue option as I told you to do boot: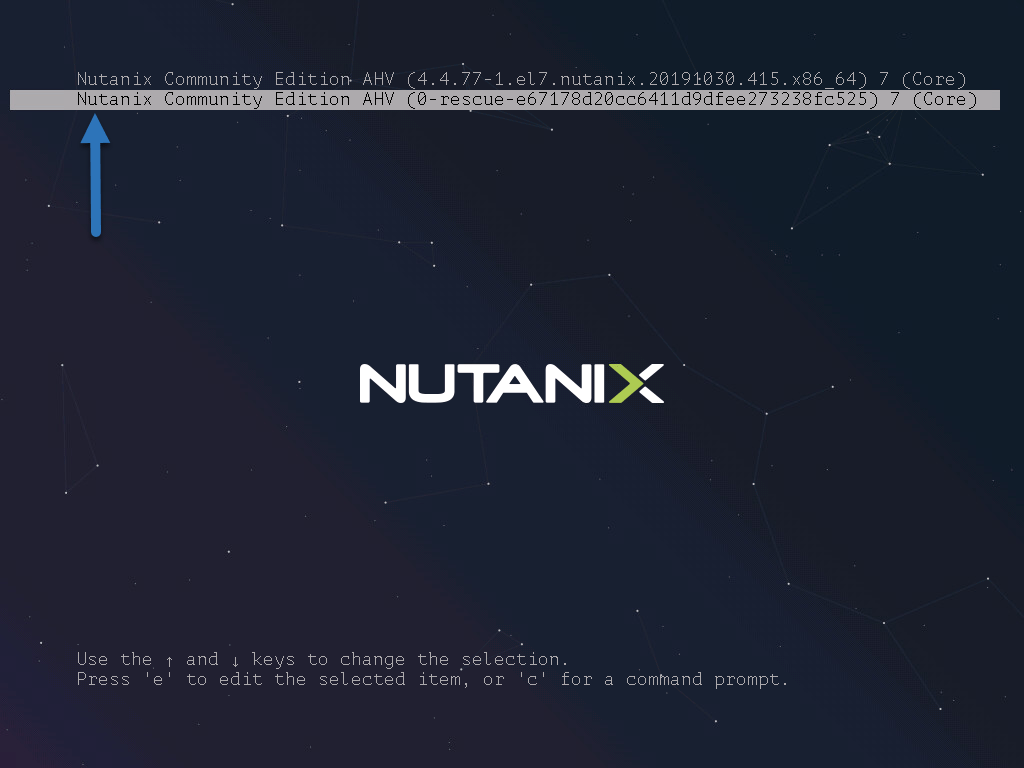 As a user, we will introduce install and the installation process will begin. We will be able to select the keyboard that we want, in my case I have left US: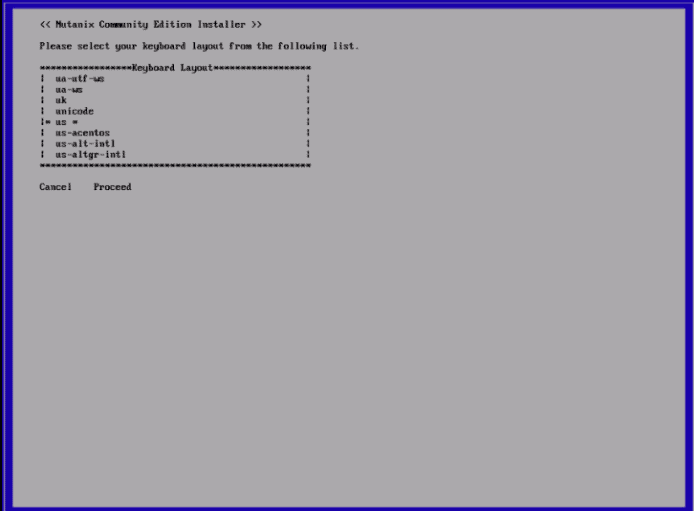 After a few seconds, we will see the typical Nutanix configuration screen, where we will have to enter two network configurations:
One for Hypervisor Acropolis itself
Another for CVM virtual machine
We'll mark it as a Single-Node, add a DNS server, read the EULA and mark that we've read it:
We can follow the installation process in two ways, seeing if the CVM and Hypervisor are displayed correctly, above, and seeing the remaining points to finish: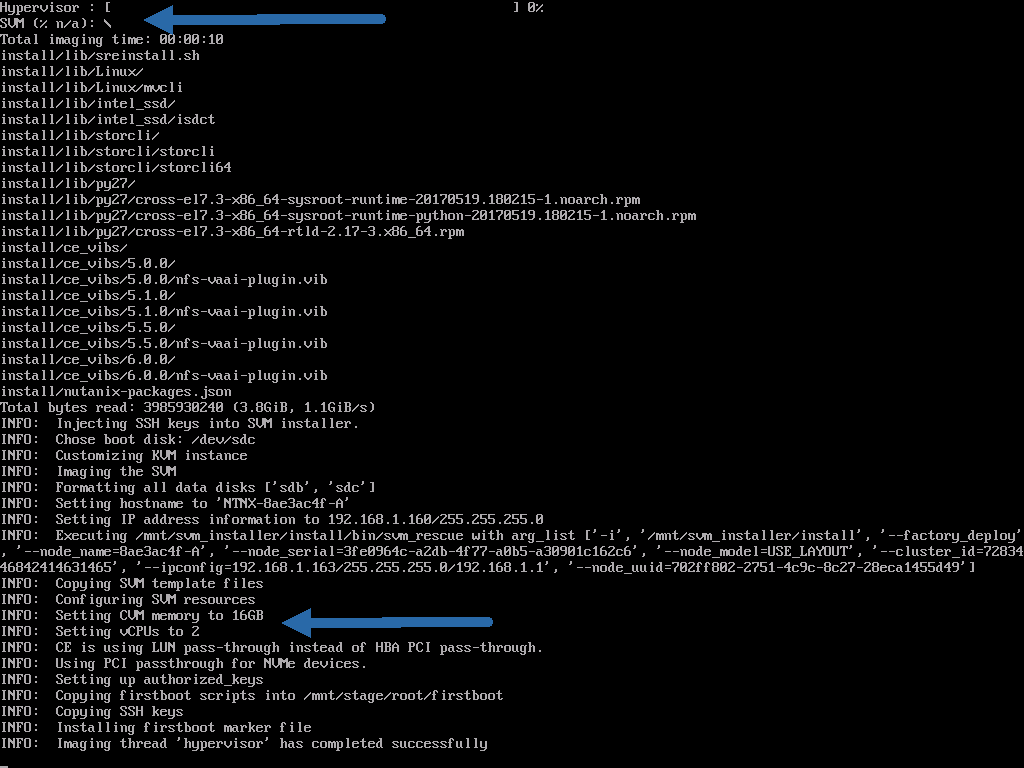 After a few minutes, we will have our Nutanix Community Edition installed:

Initial Configuration of Nutanix Community Edition 5.11.1.2
Once we restart the VM, we'll see the typical background image of Nutanix, with the build number.
Remember that we have two IPs, Acropolis and CVM. Once we have ping to the CVM, we could log in through SSH.
CVM Username: nutanix / Username Acropolis: root
Password: nutanix/4u
Note: If we check the single-node option, when it starts for the first time the CVM will create the cluster automatically.
We can open the IP in a browser and it will redirect us to PRISM over port 9440 in HTTPS.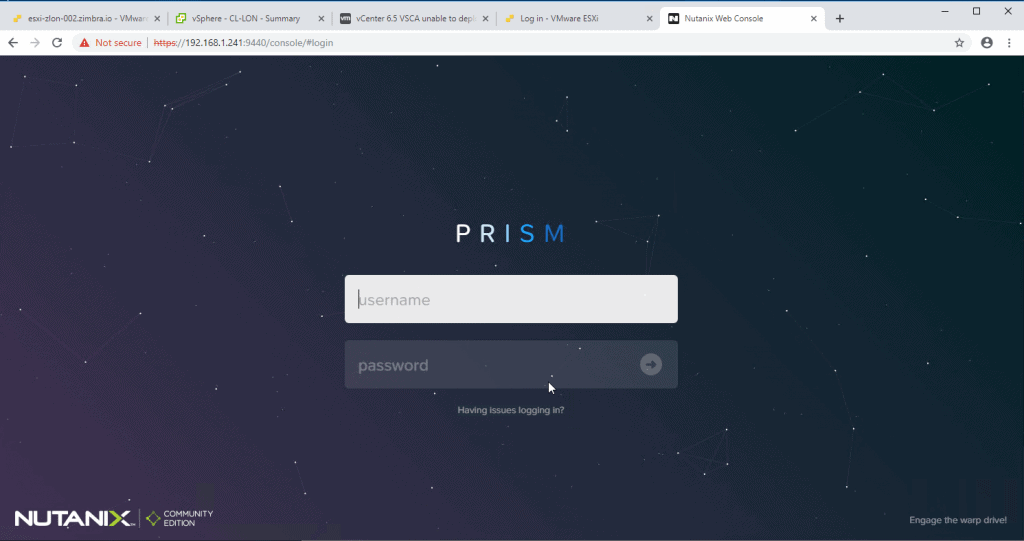 The first step will be to change the default password of the Admin user (admin and password nutanix/4u).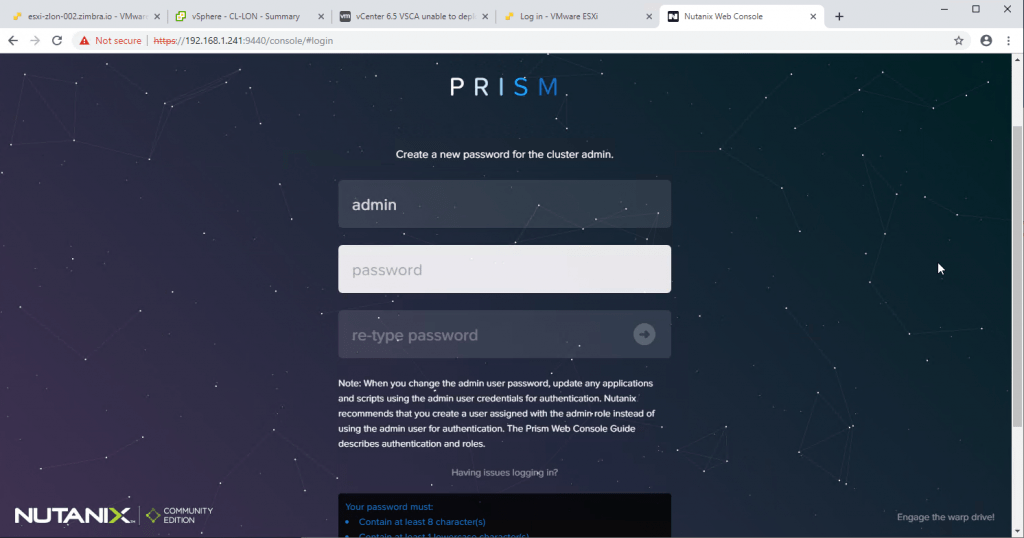 In this step we must introduce our NEXT community credentials, you can create one by going to this link: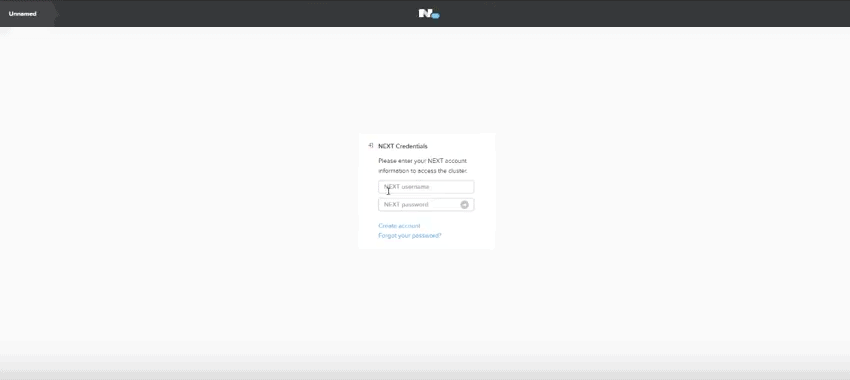 And we'll be inside Acropolis, the latest version, where we can start creating VM, add other Host, review all the menus, etc.

 I hope you like it and do not miss the following posts on Nutanix Community Edition.
Note regarding VMs stuck in SeaBIOS
Something has changed in Nutanix CE, that now requires an extra step if when you boot any VM, you have the next message:

You will need to go to the next path /var/cache/libvirt/qemu/capabilities/ and you will see likely two different files:
ls /var/cache/libvirt/qemu/capabilities/ -lah total 24K drwxr-xr-x. 2 root root 4.0K Mar 25 21:17 . drwxr-x---. 3 qemu qemu 4.0K Mar 24 21:34 .. -rw-------. 1 root root 7.1K Mar 25 20:47 3c76bc41d59c0c7314b1ae8e63f4f765d2cf16abaeea081b3ca1f5d8732f7bb1.xml -rw-------. 1 root root 7.1K Mar 25 21:17 f4be1fa2d4f264472f03de9360e9ecffe23e924975261d8c90ebae8aeba3f727.xml
You need to edit the one which IS NOT 3c76bc…, so in my case, the one starts with f4b3…, and you need to scroll until the end and follow the next instructions:

The result should be similar to this:

That's it, do a reboot of the Acropolis Hypervisor and try to boot your VM again, then you will properly see the VMs console: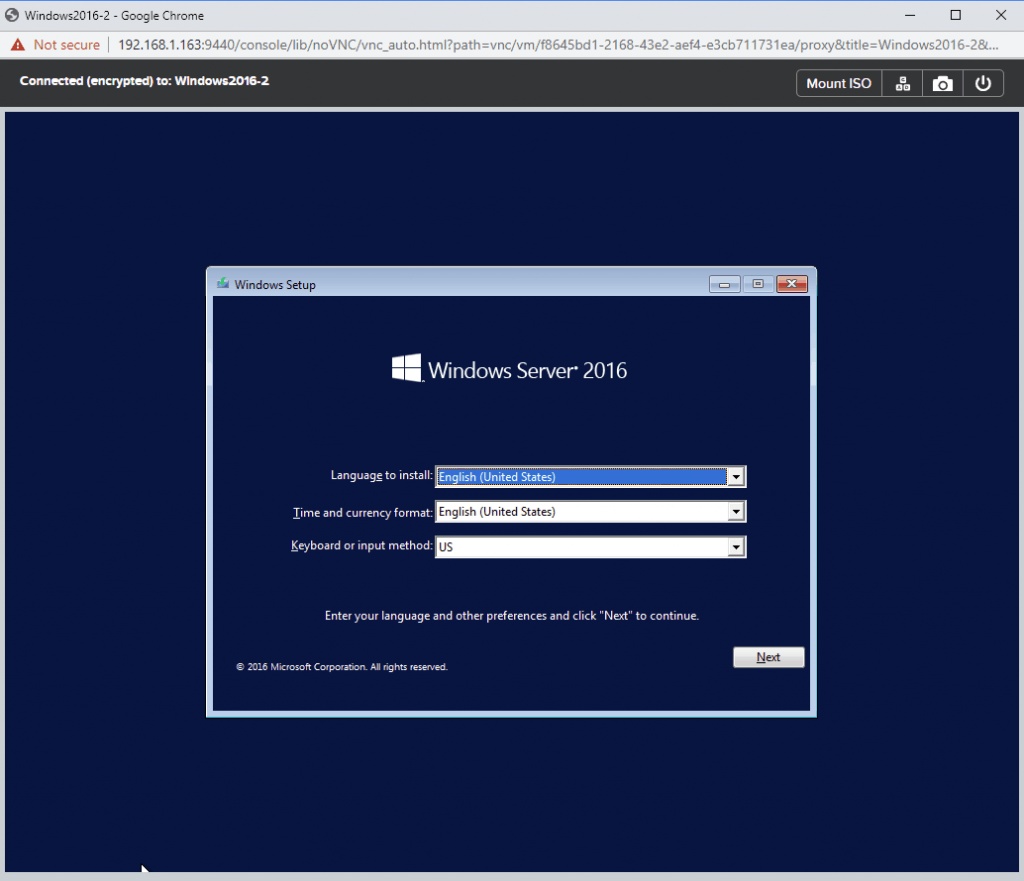 Let me know your findings and testing.
Like this:
Filed Under: nutanixTagged With: NUTANIX, NUTANIX CE, NUTANIX CE 5.11, nutanix ce ovf, NUTANIX COMMUNITY, nutanix community ovf, NUTANIX ESXI, NUTANIX NESTED, nutanix ova, nutanix ovf, NUTANIX VMWARE, NUTANIX VSPHERE
Sours: https://jorgedelacruz.uk/2020/03/25/nutanix-deploy-single-node-nutanix-community-edition-5-11-1-2-over-vmware-vsphere-6-7-in-nested-mode-ovf-format/
Claranet
We were focused on flexibility and innovation. We were looking for a partner who would be able to understand our business needs. With Nutanix, there was a willingness to listen and propose an innovative solution.

- Laurent Perriault, Director of Operations
Play Video
Langs Building Supplies
In terms of IT infrastructures, I can stand up a new site in less than a day with Nutanix. I'd challenge anyone to do that with traditional technologies.

- Matthew Day, IT Manager
Read Case Study
Richter
We saw immediate performance gains across the board with Nutanix, enabling us to virtualize all of our workloads, including our large MS SQL databases and our Exchange servers.

- Greg Eamer, Director of Information
See All Customers
How to Install VMs on Intel NUCs Running Nutanix CE
Read Blog
Product Documentation
Get the details to help you be most productive using Community Edition.
Learn More
6 Nested Virtualization Resources to Get You Started with Community Edition.
Read Blog
How to Setup a Three Node NUC with Community Edition
Read Blog
Optimize Your Experience
Join the Next Community to exchange ideas with peers, learn best practices from experts and share your knowledge with a thriving worldwide community.
Join Now
Connect with IT pros
Develop skills to advance your career
Stay up to date with the latest in cloud technologies
Help others by sharing your expertise
See For Yourself
Get hands on with the hyperconverged infrastructure that powers the world's most advanced datacenters. Sign up for a free test drive to gain immediate access to Nutanix in the cloud.
Learn More
Sours: https://www.nutanix.com/products/community-edition
Update 1: 28/05/2020 for Step 26
Optional: Modify the Pre-Requisite Checks for the installer, depending on your hardware. 
In this post series, we will install and configure Nutanix CE on VMware Workstation 15. I'm deploying it on my machine using the VMware Workstation 15. I really got benefit from an article written by Joep Piscaer to build it up.
My Environment:
250GB SSD
20GB RAM
Intel i5-7200 @ 2.5 GHz
VMware Workstation 15
Download the NutanixCE:
Step 1– Extract the ce-2019.02.11-stable.img.gz
Step 2– Rename the ce-2019.02.11-stable.img to ce-flat.vmdk
Step 3– Download the disk descriptor file from here , rename it to ce.vmdk
Build A Nutanix Node
Step 4– Open VMware Workstation, File –> New Virtual Machine –> Select Custom and click Next.
Step 5:
Step 6:
Step 7:
Step 8:
Step 9:
Step 10:
Step 11:
Step 12:
Step 13:
Step 14: Attach an existing the disk. Select the image/disk descriptor file created in the above section.
Step 15: 
Step 16: Click finish;
Step 18 – Modify the VM Settings again to add the Hard Disks [200GB HDD, 500GB] and the Virtualization Engine [VTx/EPT].
Step 19:
Step 20:
Step 21:
Step 22:
Step 23:
Step 24:
Step 25:
Step 26 – Start VM.

Update 1:
Step 26.1:  Login as 'root' (password 'nutanix/4u')
Step 26.2: Edit /home/install/phx_iso/phoenix/sysUtil.py
#Modify the SVM Requirments
SVM_GB_RAM = 16
#Modify the CVM requirements
custom_ram = 8
Step 26.3: Save and start the installation
Step 27: When booted, follow the instructions and type install at the login.
Step 28:
Step 29:
Step 30: Assign Static IPs for the KVM Host & CVM and mark the checkbox "Create single-node cluster"
Step 31:
Step 32- Navigate to your CVM via IP address provided in step 30.
Step 33: Change password.
Step 34: Login with your NEXT Account credentials
Step 36: Now, you are then into PRISM, controlling your single KVM host.
Sours: https://diyvirtualization.com/2020/05/28/running-nutanix-community-edition-on-vmware-workstation/
How to Install Community Edition Episode 2 - Nutanix University
Nutanix Community Edition: Zero Cost, Stellar Benefits
Nutanix Community Edition was released on June 8. It is a free, community-supported edition of the Nutanix platform that can be installed on most hardware. Needless to say, the techs here at InterWorks were extremely excited to test it out. We instantly started looking for some "spare" hardware that could support the platform.
Above: The slick Nutanix Community Edition interface.
Installation
The installation process was very easy once we found hardware with the appropriate specifications. Those specifications are not difficult to meet, but there are a few things to look out for:
Intel CPUs with VT-x support.
Four core minimum
16GB RAM minimum
32GB RAM or greater recommended for NOS features such as deduplication/compression or more user VMs
Intel-based NIC
200GB hard drive or greater, maximum 18TB (3 x 6 TB HDDs)
200GB Solid State drive, maximum number of SSD/HDD drives per node is four
One 8GB capacity device per node. It can be an external or internal device. Nutanix has successfully tested and used external USB drives and internal devices such as a SATA DOM.
If you use a USB drive, you should note that you cannot remove it from the server. It keeps Nutanix OS on that drive permanently.
The hardware we used was just an old server lying around that had a single Intel Xeon Processor and 32GB of RAM. We pulled a spare SSD and HDD from our parts pile to meet the hard drive requirements.
Above: The Hardware dashboard.
The Benefits
Once you run through the installation process, you will simply go to the IP address specified during the setup process and start managing your cluster. It gives you access to the Nutanix PRISM management interface, and it's set up just like the full-blown version. It automatically installs the Acropolis hypervisor. Acropolis is based on KVM, but adds several easy management features inside the PRISM interface. The only downside is that you will not be able to install Hyper-V or VMware hypervisors on the Community Edition. On the bright side, Nutanix has made Acropolis VERY easy to use.
One of the coolest features is the ability to do a one-node cluster. That's great for people that are trying to scrounge up spare servers to test CE. Typical Nutanix clusters force you to have a minimum of three nodes in a cluster. With Community Edition you can do one, three or four nodes. Since we made a one-node cluster, I was not able to test the redundancy features, but most of the other features are available.
If you would like to test redundancy, but you don't have enough resources, you can now nest a whole Nutanix cluster inside a hypervisor. The idea is that you install you hypervisor on the server of your choice. Then you install Nutanix on three guest VMs and create a cluster between them. Then you can virtualize servers on those virtual servers. Virtualization inception! If that's interesting to you, check out this Nutanix resource to learn more.
Some Final Thoughts
After deploying Community Edition, I realized something: This is amazing for Nutanix partners (like InterWorks). They have essentially made an inexpensive way to get firsthand experience with the product. It makes a huge difference in the entire support process when we are able to play with the technology in our own environments. If you're using spare hardware or a nested virtualization setup, there is no cost for you to try it. Even the time investment is very small. It took less than one day to get from spare parts to IOPS tests on guest VMs.
Another unforeseen benefit is how this has helped me architect Nutanix clusters for our clients. It makes configurations so much easier to visualize when you can get into the platform and play with settings. The firsthand knowledge transfers into your designs and also helps while answering customer questions. As a solution architect, there is nothing better than experience.
Community Edition has also proven useful as quick and easy demo center. After showing this to one of my colleagues the first thing he said was, "Can we use this to demo to one of my clients?" My response was, "I don't see why not." We proceeded to get a meeting scheduled. With most storage or server solutions, getting demo equipment is typically one of the hardest hurdles. If your customers have some available resources, you can even invite your prospects to participate through the Nutanix CE partner portal.
How to Get Nutanix Community Edition
If you think you can benefit from installing CE in your own environment, you can still sign up for the beta here. It's a no-brainer for any Nutanix partner to get this installed. If you're not a partner, you should still try it out. No one can complain about free training or demo equipment, after all. Anyone interested in virtualization can learn quite a bit by installing this on your own equipment. I highly recommend trying it for yourself. 
Sours: https://interworks.com/blog/tlester/2015/08/18/nutanix-community-edition-zero-cost-stellar-benefits/
Community nutanix

Nutanix Community Edition 5.18 is here, and is full of new features.
Nutanix is excited to announce the full release of our ISO installation method for Nutanix Community Edition also known as Nutanix CE. The ISO supports an enhanced disk selection wizard, UEFI and Legacy boot support, and ESXi installation (with a user supplied ESX ISO hosted on an accessible internal server). Nutanix encourage everyone that wants to install Community Edition to use the ISO.
That said, some drivers for specific hardware configurations may not yet be included in the ISO, so Nutanix is continuing to offer access to the prior image-based installation method (see link at the bottom of this post). If you use the installer for the prior version, you will have to upgrade AOS and then AHV after the installation has completed in order to access the latest versions. The Nutanix CE 5.18 brings feature parity to Nutanix AOS 5.18.
Here are some of the new features, outside of the AOS 5.18 is:
ISO Installation Method
Lifecycle Manager (LCM) for AHV upgrades
From now on Nutanix CE follows Production version releases.
If you are contemplating use of Nutanix for business and production use, we highly recommend engaging in an actual POC with the partner or Nutanix account teams. Community Edition is a technology demonstrator, and is not a replacement for production systems.
Nutanix Community Edition is a free version of Nutanix AOS, which powers the Nutanix enterprise cloud platform. The Community Edition of AOS is designed for people interested in test driving its main features on their own test hardware and infrastructure. As stated in the end user license agreement, Nutanix Community Edition is intended for internal business operations and non-production use only.
Click here to download Nutanix CE 5.18
Before you begin, consider that the commercially-available Nutanix NX Series systems are tuned for performance. The enterprise-ready version of AOS is bundled as the engine driving our hyperconverged compute and storage platform. You should not expect to achieve comparable benchmark numbers. For example, the NX Series systems include 10 GbE network interfaces, high core count dual CPUs, large amounts of memory, and high performance enterprise-class solid-state drives (SSDs).
Sours: https://www.ervik.as/nutanix-community-edition-5-18-is-out-and-packs-a-punch/
Como trabaja Nutanix (Español)
Till the time I was working majorly on VMware products, I thought there can't be a better piece of technology than this. But since the time I started learning Nutanix, my thoughts changed and I must admit that I am in awe of this product.
To learn any new product, home lab is the best place where you can learn things from scratch. Since I don't have dedicated hardware pieces to deploy Nutanix, I tried my hands on Nutanix Community Edition.
In this post I will outline some basic considerations which you should keep in mind when when planning to go with Nutanix CE and will walk through the steps needed to create lab. Also I will discuss possibilities and limits of using this product.
What is Nutanix Community Edition (CE) ?
Nutanix Community Edition is the free version of Nutanix OS which can be used to test drive main features of Nutanix. Nutanix CE can be deployed using existing hardware in your infrastructure or it can be deployed as virtual machine in a nested virtualization platform.
One important thing you should keep in mind is that Nutanix CE is intended for internal business operations and non-production use only.
Components of Nutanix Community Edition
When you deploy Nutanix CE, you will get following:
AHV (Acropolis hypervisor with virtualization management)
Single pane of glass control (Prism web console to manage the cluster)
Command-line management (nCLI)
Ability to create multi-node cluster (comprising of 1, 3 or 4 nodes)
So when you deploy Nutanix CE, you gets AHV with distributed file system (DSF) and access to prism to manage the cluster (single node or multi-node). Also you get access to command line to perform some advanced configuration and management tasks.
Limitationsof Nutanix Community Edition
Since Nutanix CE is free, it comes with some limitations:
Your cluster requires internet connectivity (outgoing traffic on tcp/80 and tcp/8443) to send telemetry data and usage statistics to Nutanix through «Pulse» mechanism.
You must upgrade within 30 calendar days when an upgrade is available, else access to your cluster will be blocked.
Nutanix CE might not work on every hardware and there is a chance that HBAs, NICs etc of your physical server may or may not work with Nutanix CE. If Nutanix CE is being deployed as VM, then it works in most of the cases.
Nutanix Next account is mandatory (needs registration)
Only community support: If there is something wrong with Nutanix CE, you can't log a support case with Nutanix and you have to rely on Nutanix Next Community to help you out.
And that's it for this post. In Next post of this series, I will talk about my lab setup and few tweaks that we need to make. Stay tuned!!!
I hope you enjoyed reading this post. Feel free to share this on social media if it is worth sharing 
Related
Sours: https://www.vstellar.com/2018/12/14/my-hci-lab-with-nutanix-community-edition-part-1-introduction/
Now discussing:
Introduction
Nutanix CE allows you to install Single-Node, Three-Node, and finally Four Node clusters. Depend up on your hardware. Nutanix best practice guide recommends a Three-node Cluster features most relevant.
Nutanix CE is a free version of Nutanix AOS (Acropolis Operating System) powers the Nutanix Enterprise Cloud Platform.
The Nutanix CE of AOS Software is designed for people interested in testing its main features on their own hardware and infrastructure.
The Nutanix CE of AOS Software not a commercial product.Nutanix commercial solution is also available on Supermicro, Dell, Lenovo, Cisco and HPE etc.. hardwares.
What's In Community Edition:-
1. Hypervisor (Acropolis hypervisor). 2. Single pane of glass control API (Prism web console). 3. Nutanix command line – nCLI. 4. Capability to add nodes to the cluster (One, Three, & Four nodes). 5. Simple Installation and Test (Booting the AHV Hypervisor & AOS Software's from Single USB Flash device). 6. AHV Hypervisor join with a DSF. 7. Advanced configuration & management with command line access.
Some of the Awesome Features Available With CE:-
Deduplication, Compression, Erasure Coding, Asynchronous DR,
Cloning, Single Node (RF-1), Three Nodes (RF-2) or Four Nodes (RF-2), Acropolis Hypervisor (AHV) (All VM operations, HA etc….).
Analytics, Full REST API for develop, Orchestration & Automation, Self Healing, ToR Integration, Metro Availability (MA), Synchronous Replication & Cloud Connect is not part of Nutanix CE.
General Requirement:–
 Cluster needed Internet connectivity (Traffic on TCP-80 & TCP -8443) to sent data and usage statistic to Nutanix through "Pulse & Alerts".
 Static IP addresses for the CVM (Controller Virtual Machine) & and different IP address for Host.
 Don't use the IP- 192.168.5.0/24 subnet, it's reserved for Nutanix internal usage.
 Use higher quality USB 3.0/3.1 Flash Drives.
 Enough physical memory and cores (Minimum 16GB and 4 cores).
 Minimum 1x SSD (200 Gbe) and 1xHDD (500 Gbe).
 Minimum 1 Gbe supported Lancard and switch (Intel NIC recommended).
Join & Download the "Community Edition" Software:-
Register the Community Edition:-
CE Software Downloading Procedure :-
CE Software Downloading Procedure (Contd…):-
CE Software Downloading Procedure (Contd…):-
CE Software Downloading Procedure (Contd…):-
CE Software Details:-
Additional Required Third Party Sofwares:-
Recommended AHV Satadom Flash Drive:-
CE Minimum Required Storages:-
Recommended Community Edition Hardware for Nutanix Node:–
Recommended Community Edition Hardware for Nutanix Node (Contd..)
Nutanix Community Edition Licensing Requirements:-
Recommended Hardware for Nutanix Node:-
Installation Step- 1 :-
Installation Step-1 (Image Extraction ) :-
Installation Step-1 (After Extraction):-
Installation Step-2 (SATADOM Creation):-
Installation Step-3 (After Flash Drive Creation):-
Installation Step-4 (AOS Boot Options):-
Installation Step-5:-
Installation Step-6 (Single Node DHCP Option):-
Installation Step-6 (Single Node Static IP Option):-
Installation Step-6 (Multi Node Static IP Option):-
Installation Step-7 (Executing Storage Performance Test & Installation):-
Installation Step-7 (Executing Storage Performance test & Installation Continuous):-
Installation Step-7 (Login the Node CVM):-
Installation Step-8 (Creating Single Node Through SSH):-
Installation Step-8 (Cluster Creation Manual Method SSH):-
Installation Step-8 (Cluster Creation Manual Method PuTTY SSH):-
Installation Step-8 (Cluster Creation Manual Method PuTTY SSH) Contd..
Installation Step-9 (Configure an External IP Address for the Cluster):-
Installation Step-10 (Login to Prism Web Console First Time):-
You can use any HTML5 browsers like Firefox, Microsoft Edge & Google Chrome etc.. Not required any flash softwares etc). My recommendation Bonjour Print Service Install on your Prism browsing system. (https://support.apple.com/kb/DL999?viewlocale=en_US&locale=en_US)
Installation Step-10 (Login to Prism Web Console First Time) Contd…
Installation Step-10 (First Time login) Contd..
Installation Step-10 (First Time login) Contd..
Installation Step-10 (Change Password Section) Contd…
Installation Step-10 (Next Account Credential Section) Contd..
Prism Element API (Single Node):-
Prism Element API (Cluster):-
More Related CE Official Videos & Docs:-
https://www.youtube.com/watch?v=TzCTxKxpz7M&list=PLAHgaS9IrJefR8vBUyqjmfiVnFJ2SyKAQ&index=2
https://www.youtube.com/watch?v=MYAgAgDX-Go&list=PLAHgaS9IrJefR8vBUyqjmfiVnFJ2SyKAQ&index=3
https://www.youtube.com/watch?v=3GGdy2I4THU&list=PLAHgaS9IrJefR8vBUyqjmfiVnFJ2SyKAQ&index=1
https://portal.nutanix.com/#/page/docs/details?targetId=Nutanix-Community-Edition-Getting-Started:Nutanix-Community-Edition-Getting-Started
https://www.nutanix.com/blog/6-nested-virtualization-resources-to-get-you-started-with-community-edition
Sours: https://hcivirtualization.com/
479
480
481
482
483