Quality Seafood Market
Hours
Open Today:
10:00am-8:00pm
Monday10:00am-8:00pm
Tuesday
Wednesday
Thursday
Friday
Saturday10:00am-8:00pm
Sunday
Menu
View Menu
Additional Dining Info
Delivery
No delivery
Payment
Credit Cards Accepted
Parking
Parking Lot
Good for Kids

Attire
Casual
Alcohol

Reservations

Price Point
$$ - Cheap Eats (Under $10)
$$ - Moderate ($11-$25)
$$$ - Expensive ($25-$50)
$$$$ - Very Pricey (Over $50)

WiFi
No
Outdoor Seats

Restaurant Description
www.facebook.com/Quality-Seafood-Restaurant-and-Market-178836122293328/
Restaurant Photos

| Add Photo
Menu
See Menu
Write a Review for Quality Seafood Market
Top Reviews of Quality Seafood Market

4.5 stars - Based on 18 reviews

09/14/2021 - Reggie Cahoon
Just finished a shrimp/scallop dinner for my birthday! Food was excellent as always! Our favorite seafood dinner restaurant.

08/21/2021 - MenuPix User
One word!!! AMAZING!!!!

06/07/2021 - MenuPix User


05/23/2021 - MenuPix User
Always delicious 🏆

05/19/2021 - MenuPix User


05/15/2021 - MenuPix User
One of the best seafood I ever had

03/18/2021 - MenuPix User


03/05/2021 - Ditdot
It's always tasty 😊

01/21/2021 - JAC
Quality Seafood Restaurant never disappoints me or my family. Their food is always fresh, perfectly cooked and served steaming hot. Fantastic prices. Pleasant staff who were masked and social distancing for eating in. You will not be disappointed!

01/08/2021 - MenuPix User


12/23/2020 - MenuPix User


11/20/2020 - MenuPix User


10/12/2020 - MenuPix User


06/11/2020 - MenuPix User
The best seafood in Elizabeth City! We have to order from there at least once per week and have never had
reason to complain, the cooks really know their way around a kitchen!

06/10/2020 - MenuPix User
Best seafood ievery had

12/30/2019 - B.B.
Love Quality Seafood and Market. Always served fresh, great prices for the portions. Closest to the seafood markets in DC., without being on the water

05/11/2019 - MenuPix User
I'm from Michigan one of my good friends lives in e city. My wife and I have been to e city probably 15 times in last 6 years or so quality is the very first place we eat and usually the last before we leave. Food is great prices are excellent for the area and staff is always friendly. We plan on another trip in November so be heading back. Thank you

1 Review
1 review with a rating of 5.0 stars and no comment. This review is included in the calculation of the average rating of 4.5 stars which is based on 18 total reviews.
Menu
Show All Menus
Have an updated menu? Click to update.
Page 1 of 1 Back to top
>
Sours: https://www.menupix.com/northcarolina/restaurants/3312022/Quality-Seafood-Market-Elizabeth-City-NC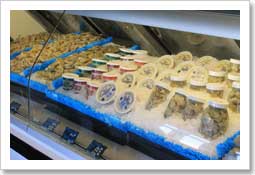 Quality Seafood Market is a locally owned seafood restaurant and retail store located in downtown Elizabeth City, NC offering a variety of fresh seafood along with a full menu of North Carolina homestyle dinners.
Our Retail Market
In retail section of Quality Seafood Market you will find full service shop selling fish, shrimp, crab meat, oysters, clams and more. Along with our wide selection of seafood we carry all the oil, breaders and condiments needed to cook up the perfect seafood dinner at home.
Our Restaurant
At our restaurant our focus is simple, delicious seafood at an affordable price. When visiting you will place your order at the counter and will be given a number. After ordering, while waiting you can fix your own drinks and find a comfortable place in our dining area.  Once your order is ready your number will be called.  We also offer take out services as well as a drive through for the seafood lovers on the go.
Restaurant Menu
Sours: https://www.qualityseafoodco.com/quality-seafood-market-elizabeth-city-nc.html
Quality Seafood Market
$$ •Seafood Markets
Hours:
309 E Ehringhaus St, Elizabeth City
(252) 335-7648
Ratings
Take-Out/Delivery Options
no delivery
take-out
Tips
in-store shopping
accepts credit cards
private lot parking
softshell crab
shrimp and scallops
oyster dinner
bike parking
wheelchair accessible
kid friendly
Reviews for Quality Seafood Market
More Reviews(179)
Hours
| | |
| --- | --- |
| Monday | 10AM - 8PM |
| Tuesday | 10AM - 8PM |
| Wednesday | 10AM - 8PM |
| Thursday | 10AM - 8PM |
| Friday | 10AM - 8PM |
| Saturday | 10AM - 8PM |
| Sunday | Closed |
Hours or services may differ due to COVID-19. Please contact the business directly to verify hours and availability.
Sours: https://www.restaurantji.com/nc/elizabeth-city/quality-seafood-market-/
What Makes Elizabeth City, North Carolina a Great Place to Live
.
Elizabeth number city seafood quality
.
Top 10 best Restaurants in Elizabeth City, North Carolina
.
You will also like:
.
489
490
491
492
493